Arburg delivers machinery for head-up displays to Continental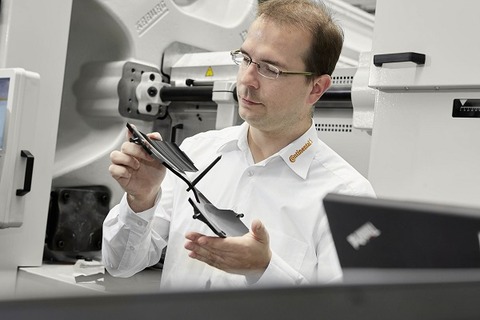 Lossburg, Germany – Arburg delivered the tenth Allrounder injection moulding machine to Continental AG for the production of aspherical mirrors for head-up displays (HUDs) in November 2016, the Germany machinery maker announced 23 Dec.
Automotive supplier Continental has been cooperating with Arburg "on an exclusive basis" in this segment since 2010, for which it uses "specially equipped electric machines from the Alldrive series," said Arburg.
According to Arburg, demand for head-up displays is growing steadily with annual production increased by 70% to around 600,000 parts between 2015 and 2016 alone.
Head-up displays from Continental use aspherical mirrors to project all driving-related information (such as the current road speed) onto the windscreen, and thus directly into the driver's line of vision.
For the product, said Arburg, to display information on the screen without distortion, moulds with accurate contours and high-precision surfaces are needed.
"The permissible deviation from the target geometry is less than five micrometres, in other words the diameter of a human hair," Arburg added.
The two companies intensified their cooperation on HUDs in 2010 as demand started to grow. The collaboration, according to Arburg, covers not only machine design, but also joint process optimisation in terms of sequencing and programming.
The mirrors are moulded from cycloolefin-copolymer (COC), a special transparent thermoplastic. To achieve that, the electric Allrounders of the Alldrive machine series feature injection compression moulding equipment.