Michelin sport tires fitted on new Mercedes-AMG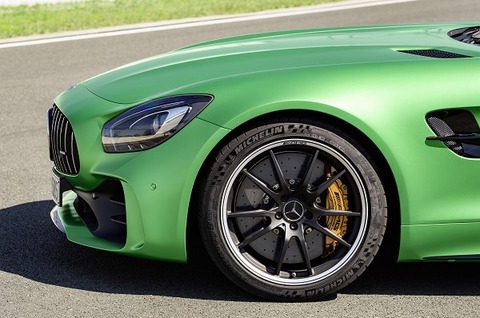 Paris – Michelin's specially-developed version of its Pilot Sport Cup 2 tires will be the sole track-focused OE fitment on the new Mercedes-AMG GT R sports car, the French tire-maker announced 13 Dec.
The "road-legal" tires have an optimised profile and asymmetric tread design, along with a new single rubber compound developed in motorsport series.
This combination, said Michelin, gives optimum balance between handling, grip and endurance on track – as specified by AMG's engineers.
According to Michelin, the challenge was to design an ultra-high-performance tire that offered high levels of safety in a variety of road and track conditions without compromising on tire life.
Development of the tire took 18 months, during which Michelin tested almost 900 prototype tires and 800 pre-series tires.
"These were extensively tested by both Michelin test drivers and AMG's engineers on a number of circuits including Nardo, Nurburgring and Michelin's own Ladoux test tracks near Clermont-Ferrand, France," the tire maker said.
In addition to the new mono-compound and asymmetric tread pattern, the tires also incorporate the motorsport-developed track variable contact patch 3.0., which optimises pressure in the tire's contact patch. This means the same amount of rubber is always in contact with the road or track, whether driving in a straight line or cornering.