Tire, rubber markets buoy Teijin to Q3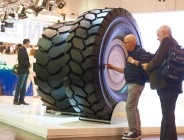 Tokyo – Teijin has reported that sales of its Twaron-brand para-aramid fibres "expanded firmly" for automotive applications, including tires in Europe, during the nine months ended 31 Dec, 2015.
The positive performance extended to sales of reinforcement materials used in high-performance tires worldwide, and sales of rubber materials used in automotive belts and hoses in Japan.
On the other hand, exports of rubber materials and sales of yarn for airbags struggled, the Japanese group added in a financial statement issued 1 Feb.
Among recent developments in the tire sector, was the start-up a dipping plant by Teijin FRA Tire Cord (Thailand) Co., Ltd – a joint venture with Ayaha Corp. engaged in the twisting, weaving and bonding of tire cords.
"Through these and other initiatives, we took major strides forward in bolstering our global supply chain by setting up a region-wide production structure spanning Japan, the PRC and the ASEAN region," Teijin commented.
(Image source: MesseEssen / Reifen expo)