Continental scouting for new HQ location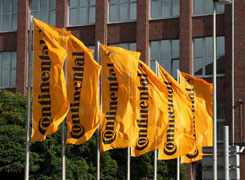 Hanover, Germany – Continental AG is scouting for locations to move its corporate function to a new HQ, according to the company's vice president Media Relations Hannes Boekhoff.
Speaking to ERJ, Boekhoff said that the reason for the move to a new HQ was because the current site had no room for expansion.
"We have 750 employees right now and as we are setting out to grow, we are looking for a new HQ that can accommodate up to 1,250 members the corporate function," he added.
"For now, the aim is to find a site, come up with the concept of what the new HQ would look like, build it and then define a new purpose for the current site," he added.
According to Boekhoff, Continental's rubber division and ContiTech, which has a plant next to the current site, will not be part of the move.
The move is to coincide with the group's 150th anniversary, in 2021 and will accommodate 1,250 of Contiental's corporate staff.
Also speaking to ERJ, Alexander Bahlmann, head of passenger tire public relations said: "Five locations are currently on the list of candidates for the new corporate HQ, all which will be in or around Hanover," .
Asked if Hanover suburban area Garbsen, which has been mentioned by local media as a favourite, was on the list, Bahlmann the town was a possibility.
"Garbsen is close to our Stoecken facility where 3,500 of our about 8.000 employees in Hanover are based. So, yes, the town is on the list," he added.