Compounds and military contracts buoy Pelmar firm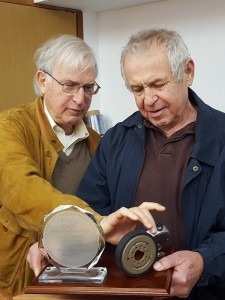 Yokneam, Israel - TGL SP Industries Ltd, part of Pelmar Engineering Ltd, has reported a successful 2015, in which it equalled, though did not exceed, the records set in the previous year.
Last year, the company expanded its markets for both custom compounds and military rubber-to-metal bonding facilities to overseas markets in the Americas and south east Asia.
In July, a new chairman of the board was nominated, Yaron Livnat, who brings with him extensive knowledge and experience related to armoured vehicles.
On 31 Dec, the company's production director, Zvi Blumenkranz retired after 45 years of service, the report also noted.
Caption Zvi Blumenkranz together with Jacob Peled, executive chairman of Pelmar Engineering Ltd.