Nexen tires receive good design awards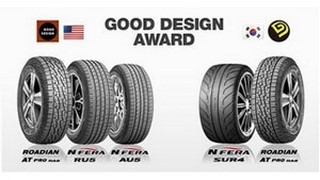 Seoul, South Korea – Five of Nexen Tire Corp's tires were recently selected for both the U.S. and Korean Good Design Awards.
The company's Roadian AT Pro RA8 won the Korean Institute of Design Promotion Award in the Lifestyle Vehicles category, while the main prize – the Korea good design award –went to Nexen for its N'Fera SUR4 tire.
Nexen – along with its Diamond Bar, California-based Nexen Tire America Inc. US subsidiary – picked up three winners in the transportation category for the tire maker's Roadian AT Pro RA8, N'Fera RU5 and the N'Fera AU5.
"The selection of the Roadian AT Pro RA8 as a winner in both Korea and the US exemplifies the outstanding off-road performance that can be seen by Nexen Tire," the company said in a statement. "It also speaks volumes that this tire was selected as OE for the new Ram 3500 by Fiat Chrysler Automobiles."
The N'Fera SUR4, a winner in both countries' Good Design Awards, is an ultra-high-performance semi-racing tire that, according to the South Korean tire maker, "has applied a fierce and strong image to its design." The N'Fera RU5 was awarded in a design award in the US as the top-class product for SUV for both its "excellent running and high mileage performance".
Nexen said, adding that the N'Fera AU5 "is a product that has reinforced the gentle riding quality and silence of a sedan, as well as mileage performance and fuel efficiency."
Han Min-hyun, Nexen's vice president and R&D director, said the recently released N'Fera and Roadian series "are exhibiting not only excellent performance but also tangible results in design.
"We will continue to enhance our product competitiveness by further increasing R&D investments."