Emerson to automate Tahrir petchems project in Egypt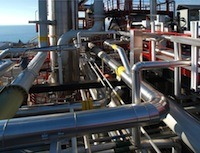 Dubai – Egyptian petrochemicals firm Carbon Holdings has awarded Emerson Process Management a €145-million contract to automate for and support the operation of the massive Tahrir Petrochemicals Project at Ain Sokhna, Egypt.
As main automation contractor, Emerson is to optimise availability of the plant and provide consulting services, equipment health monitoring, and a reliability service centre for ongoing local support and expertise.
When completed, the $6.9-billion Tahrir project will be the largest petrochemical plant in Egypt and the largest naphtha cracker plant in the world. It will produce 1.5 million tonnes per year of ethylene that will then be further processed into polyethylene.
Other major products will include propylene, polypropylene, hexane and benzene, as well as butadiene and styrene – both important feedstocks for the synthetic rubber industry.
Construction and operation of the Tahrir Petrochemicals complex is expected to generate thousands of direct and indirect permanent and construction jobs in Egypt.
"Investments of this size require us to select partners that have a long history of handling large, complex projects and the expertise to produce a reliable plant with dependable output," said Basil El-Baz, chairman and CEO of privately owned Carbon Holdings.
"We chose Emerson for its proven ability to deliver a successful automation project that results in an efficient, high-availability operation," he added.
Designed to serve both local and export markets, the Tahrir Petrochemicals complex will be constructed in Egypt's Suez special economic development zone, with raw materials received and products shipped from the Gulf of Suez.
Financing for the mega-project is expected to come from the export credit agencies of the US, Korea, Italy and the Overseas Private Investment Corp., as well as direct investors.
Under the memorandum of understanding, Emerson will also make a preferred equity investment in Tahrir Petrochemicals.