Yokohama opens winter test track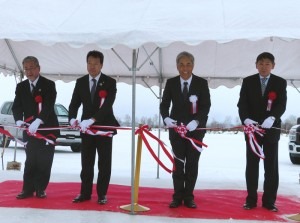 Tokyo – Yokohama Rubber Co. has opened a new winter tire test facility, in Hokkaido, Asahikawa city, Japan, the company announced on 26 Jan.
In addition to a 1km-long straight snow track, the test course is equipped with a flat ice track, hill track, snow and ice circle, and a handling track.
The course, said Yokohama, can accommodate tests with passenger cars running at speeds above 100kph, as well as braking, starting and acceleration tests with trucks and buses on a variety of road conditions.
The tire-maker said that the site, with winter temperatures below freezing, will allow it to test the performance of its winter tires under severe winter conditions from the end-December to the end-February.
During the rest of the year, it said, the TTCH will be used to test summer tires.
Yokohama Rubber president Hikomitsu Noji and Asahikawa mayor Masahito Nishikawa attended the centre's opening ceremony on 20 Jan.