EU car demand posts strong 2015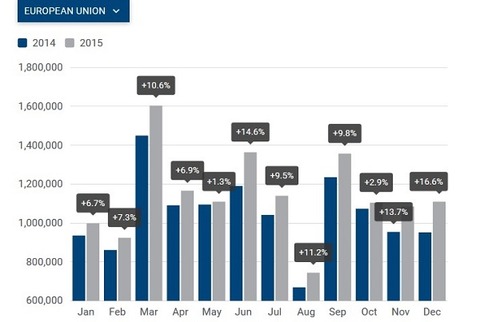 Brussels – The EU passenger car market posted a very strong uplift of 16.6 percent in December 2015, marking the 28th consecutive month of growth.
According to the Brussels-based European Automobile Manufacturers Association (ACEA) some 1,109,927 units were sold in the last month of the year.
This is the highest percentage increase since the beginning of this positive trend, said ACEA.
All major passenger car markets ended 2015 strongly, with Spain leading with a 20.7 percent growth, followed by Italy and France which both registered double-digit percentage gains. The UK with 8.4 percent and Germany with 7.7 percent growth also showed a high performance.
In 2015, the annual new passenger car registrations increased by 9.3 percent totalling 13,713,526 units. This result is now passing levels registered in 2010.