Tire maker advances mind-reading technology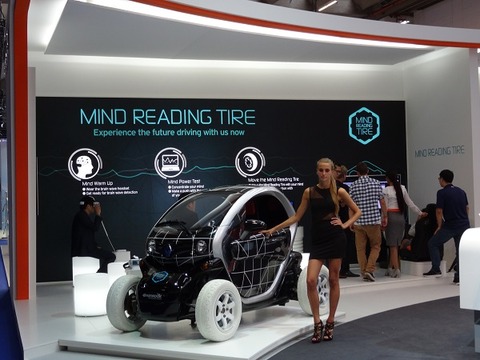 Among the eye-catching technologies to emerge this year was a futuristic tire concept developed by Hankook called the 'Mind Reading Tyre'.
Powered by human brainwaves, the tire employs a device equipped with sensors to monitor a driver's thoughts, emotions, and even facial expression by detecting electrical signals sent from the brain.
A micro controller unit (MCU) converts signals from the 'brainwave sensor' into physical signals to move both an in-wheel motor (rear) and steering wheel.
"With the motor installed inside the wheel, tires can control the whole driving, autonomously and without engines or drivetrain," said a Hankook press release.
The development is under Hankook's Next Driving Lab Campaign, which aims to radically change today's driving experience, according to Seung Hwa Suh, vice chairman & CEO of Hankook Tire.
"Based on our… commitment to enhance our technological capabilities, Hankook will continue to create a whole new level of advancement in driving for our customers through a variety of projects," he said.