Interview: Chem Tech embarks on second phase of expansion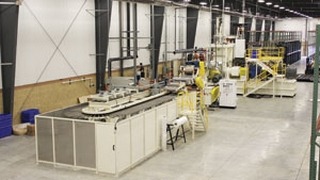 Middlefield, Ohio – Chem Technologies Ltd. is preparing another expansion.
The custom mixer just opened a 36,000-sq.-ft. building down the road from its primary base of operations. That first phase currently houses the firm's eighth mixing line, with a ninth on the way.
Chem Tech is about to begin construction of the second phase, which would house at least its 10th line and possibly more depending on market conditions. The firm eventually envisions a 277,000-sq.ft. facility to be built in seven phases on a 589,000-sq.-ft. plot of land, as business dictates.
The company owns land to the east of the second building where it could add a third complex if needed, but that wouldn't occur until after the second building is finished.
Randy Vancura, Chem Tech chief operating officer, said expansion is in response to the firm's strong growth. He said Chem Tech has seen annual growth rate of about 30 to 40 percent the last four years and that half of its top 10 customers by volume in 2015 were not customers with the company in 2014.
The executive said the eighth mixing line has the capacity for 20 million pounds of rubber annually. When fully operational, Vancura said the eighth line will create about 36 jobs with lines nine and 10 projected to bring that figure past 100.
"We've had some phenomenal growth," Vancura said. "We see next year being the same thing. We're looking at where our customers are going to be in 2016, and some will be higher and some lower. But this line should be filled sometime next year, which means we will have to have started the next line prior to that.
"The bottom line is we have room for expansion here. We don't want to get boxed in or locked up in any way shape or form. We're in good shape; it's just a matter of bringing the new customers on."
Vancura said the rotors and the long lead items on the firm's ninth internal mixer are already in the cue because they have to be cast. The foundation for phase two is scheduled to be in place before the winter, so the building could be constructed in the colder months if needed.
"We have to be conscious of our shareholders investment," he said. "But we have the blessing of the board and the shareholders to build ahead. Basically we never, ever want to be out of capacity when a new customer calls and says, "Hey I'm going to give you guys a shot."
Chem Tech designed the footers for the foundation of the second phase to support extra weight for a second floor mezzanine. The first phase already has employee locker rooms on the second floor designed for about 100 people and a shower room designed to hold an entire shift. The water runs on a tankless system that creates hot water instantaneously.
"This is the importance of being on city water," Vancura said. "The (Middlefield) mayor, Ben Garlich, worked with us really well. The city annexed this land into the village. We looked at other sites and weren't happy with what we saw. So we went and petitioned the local government, and they acquired this and annexed it within the village. We have city water, sewer and city services."
He said Chem Tech gets profit sharing that is based on the firm's profitability. Chem Tech also pays 100 percent of its employees' medical costs, meaning workers do not contribute to any part of their premium.
"To pass along a medical cost increase is an instant pay cut to an hourly employee," Vancura said. "We just don't feel that that's fair. We have a highly incentivised team. The employees share in the bonuses with the profitability of the company."
Chem Tech's primary facility – a 100,000-sq.-ft. building in Middlefield – consists of four blend lines for chemical dispersion and three rubber mixing lines. Vancura said the lines being added with the second building are dedicated to rubber mixing. That facility employs about 85.
Chem Tech's focus is on high value molded or extruded goods as well as medical, pharmaceutical and defence. He said the company mixes just about everything except silicone – ranging from all organics to both natural and synthetics.
"We want to do things right," Vancura said. "That's our No. 1 goal. As a custom mixer, we have to be able to do everything. We're not just in a certain sector where we can design everything around it. We have to be flexible to handle all the polymers."