Magna, Falken makes new VW Passat leaner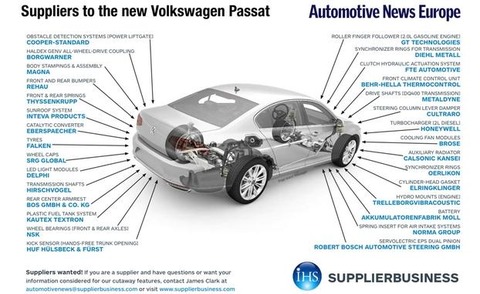 Wolfsburg, Germany – Magna International shaved weight off of the body stampings it provides to the eighth-generation Volkswagen Passat.
Without being specific, VW said the new stampings significantly contributed to the Passat being 85kg lighter than its predecessor. Despite the reduction in weight, the rigidity of the Passat's body has been improved.
The leaner Passat, which is the reigning European Car of Year, is also 20 percent more fuel efficient than the vehicle it replaces, VW says.
The Passat, which is the no. 1 seller in Europe's midsize segment, is equipped with ZIEX ZE914 tires supplied by Falken Tire, a subsidiary of Japan's Sumitomo Rubber Industries.
According to the supplier, the Passat will use both the standard summer tires and an eco-model with lower rolling resistance, which contributes toward the car's improved fuel efficiency compared with its predecessor.
Falken also supplies original equipment tires to the VW Up minicar and Polo subcompact.
VW started production of the new Passat in October 2014 at its factories in Emden and Mosel, Germany. Combined output is expected to peak this year at more than 270,000 units, according to IHS Automotive.