SIPH notes "strong recovery" in natural rubber purchases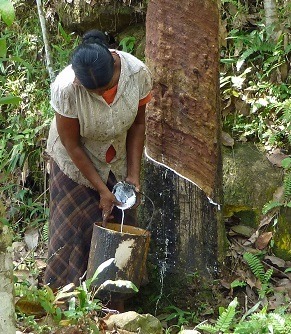 Courbevoie , France – Higher sales volumes have helped Société Internationale de Plantations d'Hévéas (SIPH) return to growth in the third quarter of 2105, the natural rubber supplier has reported.
Turnover from rubber sales reached €58.1 million, 15.9 percent higher than in the prior-year third quarter, the producer and manufacturer of natural rubber for tires and other industrial uses said.
In the three months to 30 Sept, the group sold 43.8kt of rubber as against 38.5kt in the same period last year. The proportion of purchased rubber rose to 60 percent of total production, compared to 54 percent a year ago.
There was a significant increase in external purchases in the third quarter, which totalled 79kt compared to 59.5kt in 2014.
The increase, said SIPH, "reflects the strong recovery of external purchases, itself made possible by the investments undertaken by the group to expand the industrial capacities of its plants."
The gains were made despite lower pricing: the average price of rubber in the third quarter of 2015 was down 2 percent year-on-year at €1.21/kg, SIPH reported.
In dollars, the average price in the third quarter was 17.5 percent lower at $1.34/kg, said SIPH, noting that rubber prices currently stand at around €1.07/kg ($1.18/kg).
For the first nine months of the year, rubber sales at SIPH came in 6.6 percent lower at €154.7 million. Tonnages sold came to nearly 121.5kt, an increase of almost 6 percent, which partially offset an 11.8-percent drop in sales prices.
However, the rubber market is still experiencing a "pronounced and enduring" cyclical low, said SIPH, which is continuing to implement cost control measures.
The group added that it is aligning its investment strategy, with a priority on increasing its industrial capacity and positioning the business for potential market recovery. Plans include achieving a production target of 190kt this year – up 20 percent compared to 2014.
Operating around 40,000 hectares of rubber plantations, SIPH has production capacity in Ivory Coast, Ghana, Nigeria and Liberia.
"Production conditions are good on all the plantations and purchases from the growers continue to increase steadily. The works being undertaken to develop plant capacities are proceeding to plan," the group commented.