Kenda opens US technology centre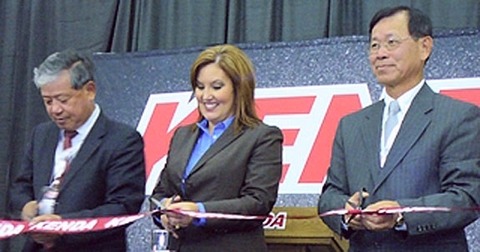 Green, Ohio – American Kenda Rubber Industrial Co. Ltd. has christened its North American technology centre in Green, a facility the top executives of parent Kenda Rubber Industrial Co. Ltd. termed essential to the firm's plans to gain original equipment supply contracts in North America.
The 50,000-sq.-ft. facility is home to 18 technicians but could house 60 to 70 in two to three years, according to Tom Williams, vice president of engineering at Kenda.
Kenda budgeted $2 million (€1.86 million) to open the facility, which sits about a mile east of the Akron-Canton Airport between Akron and Canton, Ohio, Williams said. In addition, state, county and local agencies are contributing about $1.5 million in aid and investment incentives.
Some of the incentives are tied to minimum employment, according to information released earlier this year.
Kenda expects the addition of the US technology centre will be instrumental in helping the Taipai, Taiwan-based company break into the OE business in North America, according to Kenda Rubber Chairman Ying-Ming Yang and Jimmy Yang, American Kenda Rubber president, speaking at a ribbon-cutting ceremony 9 Nov.
Kenda already is an OE supplier of temporary spare tires to a number of U.S. vehicle makers, Jimmy Yang said, which provides Kenda with an existing relationship on which it hopes to build.
The Green technology centre is Kenda's third such facility, complementing centres in Yuanlin, Taiwan, and Kunshan, China.
Reynoldsburg, Ohio-based American Kenda declined to comment on the resolution. The firm, a subsidiary of Taiwan's Kenda Rubber Industrial Co., announced plans in April 2014 for an Akron-area research and development centre.
It set up temporary research and development operations last year on the premises of Martin Wheel Co., an affiliated company, in Tallmadge, Ohio. Those personnel and other newly hired technicians are now housed at the Green facility.
Kenda plans to add a rubber testing laboratory, a noise testing facility and other facilities in the coming months at the facility, which it shares for next couple of years with three other tenants.
Kenda Rubber reported tire sales of $1.17 billion in 2014, placing it 28th in Rubber & Plastics News' 2015 Global Tire Report ranking of the 75 largest tire makers. The firm derives about 21 percent of its global revenue from sales in North America, Ying-Ming Yang said, making the region the company's No. 2 sales generator behind China.