Lanxess foresees slow take-off for Aramco rubber JV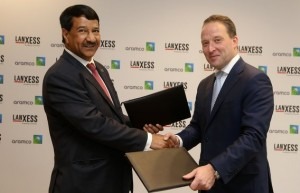 Cologne, Germany – The joint venture between Lanxess and Saudi Aramco will not enjoy the benefits of feedstock integration – or favourable trading conditions – for some time, Lanxess CEO Matthias Zachert has signalled.
Lanxess has binding feedstock contracts with other parties, which it has to stick to for the next two or three years. Zachert explained in answer to questions about the JV agreement, during a 5 Nov press conference.
"Then we will gradually integrate with the feedstock network of Saudi Aramco," he told journalists the German group's HQ in Cologne.
"For the next couple of years you should expect less, but then we will move forward with value chain integration, the value chain will be closed and our competitiveness will be improved," Zachert added.
Meanwhile, challenges still lie ahead for Lanxesss' rubber business, despite annual savings, worth around €450 million, being delivered from capacity reductions and other efficiency measures to 2019.
"We expect the market to continue with over capacities and price erosion, and will not be balanced out until 2019," said Zachert. "We will have highly volatile markets until then.
Lanxess will then see if further savings measures are needed, said Zachert, who went on to forecast that the supply/demand balance would lead to a major shake-out of suppliers in the synthetic rubber market.
"We expect that the industry is facing considerable change and consolidation, so much that for the next 10-15 years, the industry will consolidate to three or four main global players in the field of synthetic rubber," said Zachert.
"All these will have backward integration. So with our JV with Saudi Aramco, we believe we have set up an entity that will be a strong player if not the strongest player in this field," he added.
With the €1.2 billion paid by Saudi Aramco to enter the JV, Zachert said Lanxess "will now be able to think about Capex and what we want to go in the future."
"We want to be technology and innovation leader in this field and also get closer to [customers] as soon as market overcapacities have calmed down a bit."
But even the as yet un-named JV with Saudi Aramco will be under review in five years' time.
"It is a strategic venture for both parties to enter the joint venture. We will have to see how successful we are and where we head from there. We will sit down and decide if we if we want to do it for another five or 10 years.
Lanxess is already set to cut annual costs by €150 million following the first phase of the realignment by the end of 2015, a year earlier than expected.
Another €150 million/year in savings is expected from a previously announced shake-out of Lanxess' global plant network under a second phase of the realignment – to be completed by 2019.
Additional savings are expected from a global analysis of the company's plants and processes, to be completed in 2016.
These savings include around €100 million/year from process improvements and efficiencies in terms of energy and raw materials consumption and maintenance.
Capacity adjustments and efficiency measures at rubber production facilities in Latin America and France will contribute up to €30 million in savings, Lanxess noted.
A reorganisation of the production network for EPDM and neodymium-based butadiene rubber, announced previously, are expected to deliver further savings of €20 million.