Cimcorp unveils improved "Dream Factory"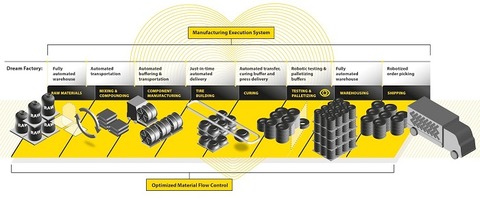 Ulvila, Finland - Cimcorp has expanded its Dream Factory system to include the handling of raw materials and compound products, the Finnish company announced on 5 Nov.
The manufacturer of robotic tire-handling systems said the end-to-end solution included an optimised layout with 50 percent less floor space than conventional arrangements.
The new Dream Factory can also be integrated with specialised software systems which could simplify material flow and lead to cost-savings of up to 50 percent in materials handling capital investment.
"The acquisition of Cimcorp by warehouse management and distribution firm, Muratec, enabled the addition of key upstream components to the Dream Factory solution," said Kai Tuomisaari, vice president of sales and projects.
The Dream Factory system is suitable for both brownfield and greenfield factory sites, added Cimcorp, stating that it has supplied the system to 14 of the top 25 tire manufacturers globally.
The clients manufacture 60 percent of all the world's tires between them, Cimcorp said.
Key installations include Cordiant's Yaroslavl tire plant in Russia and Tigar Tyres' new plant in Pirot, Serbia.
In June 2015, Cimcorp secured its largest order, €30 million, for a turnkey material handling solution at Qingdao Sentury Tire's new plant in Thailand.
Cimcorp believes that its new Dream Factory, which combines warehouse control software (WCS) and manufacturing execution systems (MES), provides total control of the manufacturing process at each stage as well as real-time data for production and inventory management.
According to Cimcorp, the new system also helps improve utilisation of important process machinery, such as building machines and curing presses, which could improve production capacity.
Also, the mechanism offers streamlined material flow which then allows plant managers to lower buffering and increase production efficiency.
Cimcorp will officially launch its complete Dream Factory solution at the Tire Technology Expo in Hanover, Germany, from 16-18 Feb 2016.