Goodyear earnings up 68% despite sales decline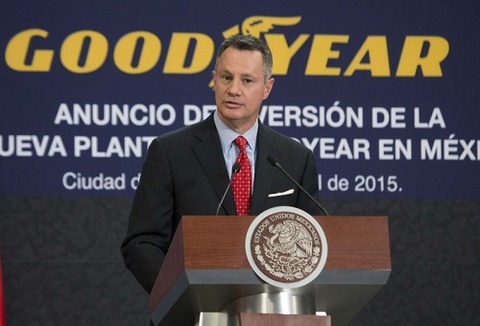 Akron, Ohio — Demand for higher value products helped Goodyear Tire & Rubber Co.to shrug off sales declines around the world during the third quarter and significantly bolster profitability.
'We delivered outstanding earnings growth in the quarter and segment operating margin of more than 14 percent, overcoming macroeconomic challenges in some of our key international markets,' reported Richard Kramer, chairman and CEO.
Goodyear's boss particularly highlighted North America, where margins exceeded 16 percent, as the business notched up a 54 percent year-over-year rise in earnings - linked to strong demand for high-value-added products.
The Akron tire maker reported a 68-percent increase in net income for the third quarter despite a decrease in sales for both the quarter and the nine-month period.
Net income reached $271 million (€246 million), compared to $161 million in 2014. Sales for the three-month period decreased to $4.2 billion compared to $4.7 billion in 2014. Sales for the nine month period also decreased 10 percent to $12.4 billion. The firm cited unfavourable currency translation of $1.2 billion as the primary reason.
Tire volumes for the first nine months increased 1 percent to 124.1 million, including a slight increase to 46.2 million in North America compared to 45.1 million for the first nine months of 2014.
Third quarter sales in North America decreased to $1.98 billion, compared to $2.01 billion for 2014, though volume increased to 15.6 million compared to 15.2 million in 2014.
Tire volumes dropped to 16.2 million in the EMEA region (Europe, Middle East and Africa), but increased to 4.7 million in Latin America compared to 4.3 million in 2014.
Volume were reported as flat Asia-Pacific, at 6 million units.
Based on the performance to the third quarter, Kramer forecast: "With our strong year-to-date performance, we now see full-year segment operating income tracking to $2 billion, which would be more than double what we achieved just five years ago."
ERJ sister title Rubber & Plastics News contributed to this report