UK start-up cuts robotics costs by 90%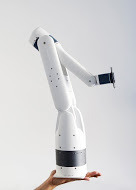 London – Automata Technologies has developed a lightweight robotic arm, called Eva, featuring plug-n-play automation that, it says, is "drastically simpler" than existing industrial offerings and a fraction of the cost.
Instead of the usually huge capital expense that is associated with robotics, their solution comes as a service for a cost of £350 a month including hardware, software and support. The London-based company is calling it Robotics-As-A-Service (RAAS), which practically moves robotics from CapEx to an OpEx for their customers.
The start-up recently won the global  Innovation Challenge run by ABB Robotics, one of the world's most prestigious Robotics companies. Automata's Eva, which can  be programmed easily using custom built software is set to raise the eyebrows of manufacturers who are looking to expand or re-shore operations in lieu of the unstable Chinese economy and rising costs of manufacturing in the Far East.
Eva is made of high-strength plastic, making it lightweight and inexpensive to manufacture compared to existing robots. Eva can be programmed by physically moving it through a task, which it can learn and re-run instantly without needing a computer or sophisticated programming.
Eva has been in development over 2 years. Mostafa Elsayed and Suryansh Chandra, founders of Automata, were Lead Designers at London based Zaha Hadid Architects' Research Group where they explored advanced methods of manufacturing products and building construction.
They investigated the integration of robots in their workflow, but eventually ended up with manual solutions as robots proved to be very cumbersome, complex and time consuming. They soon realized that a large number of manufacturers faced the same problem and set up Automata to address this.
The company has spent the last 6 months iterating through 16 revisions of their hardware prototypes using advanced technologies like 3d printing and building their software from scratch.
Suryansh Chandra, co-founder of Automata Technologies said "Current industrial robots are designed for heavy industry tasks that require extreme power and precision. But people don't work like that, and 93% of automatable tasks in manufacturing such as machine tending are still done by people on a daily basis.
"We designed Eva to make automation simple, quick and affordable, so people can leave the menial work to Eva and focus on more intelligent tasks."
Automata has already built a series of plug-n-play attachments for Eva such as grippers, mounts and machine specific handles. They expect the number of available attachments to grow as Eva gets deployed across a range of use-cases. The company has already engaged with third party developers to develop attachments and software apps for specialized use-cases, akin to apps on smart-phones.
Mostafa El- Sayed said "This is a game-changer for both robotics and the small manufacturer. Eva is a high quality, high spec robot that doesn't require a technical expert to programme it and doesn't cost the earth. Best of all, it will help growing businesses save money in the long run."
Automata is looking for customers for their pilot program. Those interested can contact them through their website (www.getautomata.com). The company anticipates open sales to commence by mid-2016.