URP opens machinery plant in China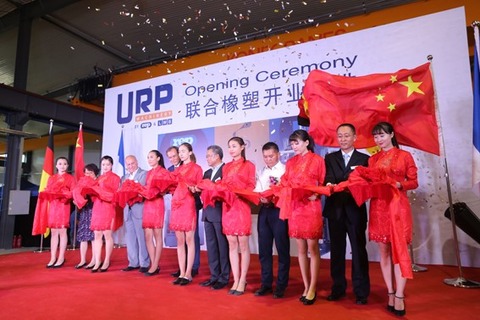 Altdorf, Germany/Corbas, France – The United Rubber & Plastic Machinery (URP) has officially opened its China manufacturing plant, according to French stakeholder REP International.
The joint venture was established by REP and German LWB-Steinl in 2014 to handle the exclusive sales, service and manufacturing business of rubber moulding machines in China.
According to the 7 Oct press release, the official ribbon-cutting ceremony for the URP plant was held mid-September at the 2,500 m² production area.
The first URP machines have already been sold, said the release, adding that 26 rubber injection moulding machines are currently being built at the Chinese facility.
The range includes C-frame machines (URP30, URP38, URP 50) and four-column machines (URP160, URP255, URP300, URP500) that are manufactured exclusively for the Chinese market.
United Rubber & Plastic Machinery Ltd. is a fully independent company, which operates under a Chinese management team, led by Wang Xiao Bo, former general manager of REP Beijing.