Yokohama opens US tire plant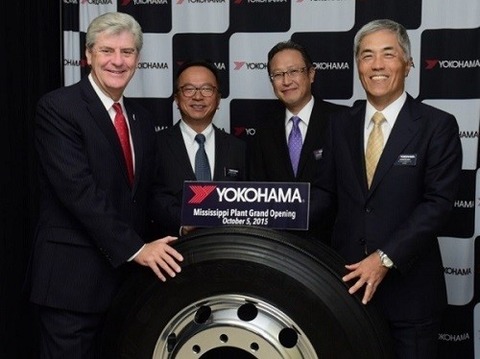 West Point, Mississippi – Yokohama Tire Manufacturing Mississippi (YTMM) opened its $300 million (€267.5 million) commercial tire plant in West Point with, Mississippi on 5 Oct, with more than 300 dignitaries and guests in attendance.
The 1 million-sq.-ft. plant, Yokohama's largest in the US, is expected to reach full capacity of 1 million truck and bus tires annually by year-end 2018.
The factory will mainly produce 22.5- and 24.5-inch truck tires for the North American market. The tire maker, which broke ground on the greenfield plant two years ago, said the facility shows its OEM customers that "Yokohama is committed to this marketplace."
What the project means to the company's tire dealer customers is that "the tires they need will literally be a call away," Takahuru Fushimi, CEO of Yokohama Corp. of North America told journalists during a press conference.
Rick Phillips, vice president of sales, consumer, commercial and OTR for Yokohama Tire Corp. (YTC), added that the plant will help Yokohama speed up the lead time for order fulfilment from months – when the tire maker relied on offshore tire shipments – to a few days with the new domestic production it gains.
"It's one of the most efficient plants Yokohama has in the world," Mr. Phillips claimed.
Yokohama officials said the plant will enable them to eventually phase out their sourcing of truck tires from the GTY joint venture facility in Mount Vernon, Ill., where the company shares production with Continental Tire the Americas LLC.
The Mississippi plant's opening marks YTC's completion of phase one of construction. If demand increases in the future, Yokohama said it will consider implementing a Phase Two expansion project at the site.
"The grand opening of our first US-built plant is truly a historic day for Yokohama," said Tadaharu Yamamoto, president of YTMM.
YTMM said thus far it has hired more than 260 employees and plans to eventually reach a workforce of 500. The plant, built on more than 500 acres of land, houses manufacturing, warehousing and operations facilities.