Smart tires on radar for "trailblazer" Aeolus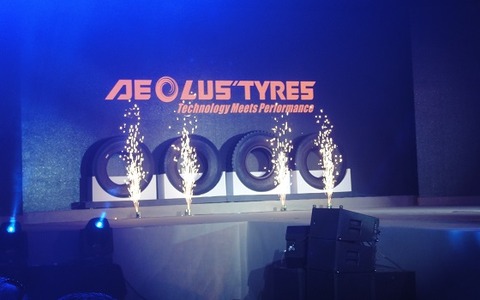 Jiaozuo, China – At its 50th anniversary ceremony, held at the company's HQ in Jiaozuo, Henan, Aeolus showcased nine of its most recently developed tire models.
Among the tires on display was the OTR model 27.00R49, a heavy duty dump truck tire customisable for different road conditions, with increased radial and lateral rigidity that enables better energy efficiency and steering safety.
The model, first produced in February 2015, is China's first smart OTR tire with built-in RFID chips capable of real-time monitoring, shortening the time to identify problems such as slow bleeding and allowing precautions to avoid serious damage.
"Currently we are using RFID systems only in certain giant OTR tires on account of high cost – roughly $400 (€358.2) per tire just for equipment," a technology spokesman explained to ERJ, adding that the RFID initiative would be extended to "broader range of products" when the company manages to reduce costs.
Rothstein later explained to ERJ that the RFID rate for PCR tires are believed it to be significantly lower than the OTR tires.
More than 2,000 people from the company, distributors, clients as well as chairman of China Rubber Industry Association Deng Yali were present at the ceremony.
In her speech, Deng called for a transition from "scale to strength" in the Chinese industry, adding that "Aeolus has been a trailblazer."