Falken technology can cut tire drive-by and cabin noise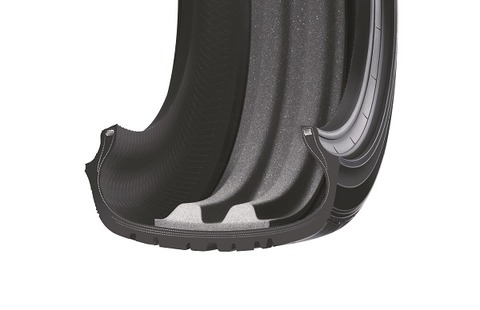 Offenbach/Main – Falken Tyre, part of Sumitomo Rubber Industries Ltd (SRI), has developed a tire technology that can reduce drive-by noise by up to ten decibels and cabin noise by four decibels.
Based on a new tire manufacturing process, the tires are said to minimise drive-by noise generated as air inside the cavity vibrates and resonates, causing sound vibrations to be transmitted into the cabin.
Working with its parent company SRI, Falken developed the patented Silent Core system, which features a layer polyether-urethane foam material applied to the inside of the tire carcass.
"Absorbing sound, the double-humped foam layer can achieve drive-by noise reductions of up to ten decibels compared to standard tyres and can also decrease cabin noise by up to four decibels," said a Falken statement.
Testing to date has shown that tire performance is not affected, said the tire maker. The urethane system, it added, lasts for the duration of the tire's lifetime.
The production process, continued Falken, is now mature enough for series production, while the Silent Core product is undergoing a pilot phase with a well-known automotive manufacturer. Oher brands are said have also expressed an interest.
Silent Core is a very simple yet extremely effective solution to the reduction of drive-by and cabin noise created by the tire, according to Andreas Giese, product planning manager at Falken Tyre.
"We've received a significant amount of interest from automotive manufacturers about this new technology, which is cheaper and easier to implement than electronic technologies," said Giese. "Initial reports from the pilot test are positive and we're looking forward to seeing the Silent Core technology progress."