Hankook self-seal tires fitted on VW Touran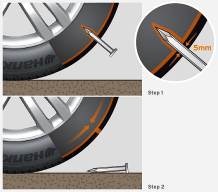 Neu-Isenburg, Germany – Hankook Tire will supply its first self-seal Ventus Prime2 Sealguard tires as original equipment (OE) to Volkswagen, starting with the VW Touran in size 215/55R17.
Hankook was selected as the OE supplier to the Touran, fitted throughout Europe after completing "a rigorous series of tests" to ensure the tire meets VW's safety standards.
The tire has a 'bionic' pattern and triple-radius tread technology.
"The tire is designed with an advanced hybrid-silica tread compound that incorporates special hybrid polymer chains and nano particles, added a Hankook announcement.