Toyoda Gosei develops "capless" fuel filler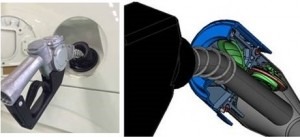 Kiyosu, Japan - Toyoda Gosei Co Ltd. has developed and started the mass production of a 'capless fuel filler', the company announced on 3 Sept.
Toyoda Gosei also claimed that as of September 2015, the product was the smallest and lightest of its kind in the world.
Toyota Gosei's Lebanon, Kentucky manufacturing facility has started the mass production of the device.
The features of the capless fuel filler include pressure regulation within the fuel tank and a conduction function to prevent ignition of fumes from static electricity.