ChemChina to acquire majority stake in Rosneft's petchem project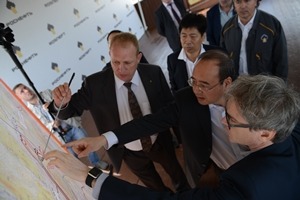 Moscow – Russian oil firm Rosneft and China National Chemical Corp. (ChemChina) have signed a memorandum of understanding for co-operation in Rosneft's Far-East Petrochemical Co (FEPCO) project.
The documents were signed by Rosneft chairman Igor Sechin and the chairman of ChemChina Ren Jianxin during Russian president Vladimir Putin's visit to Beijing.
According to a Rosneft press release, the MoU concerns ChemChina's proposed acquisition of a majority stake in FEPCO project, as well as the key stages of such investment.
"By signing the memorandum, Rosneft involves a strategic partner for FEPCO project and makes a major step towards its development," the release said.
Tire-maker Pirelli, now owned by ChemChina, is a key R&D partner in the FEPCO project, which aims to produce, among others, styrene butadiene rubber for 'green' tires.
Rubber produced at FEPCO, situated in Nakhodka, Russia, will be used by Pirelli in its tire production facilities in south Pacific region.
In April, Polish company Synthos was brought on board for to conduct feasibility studies on various topics including the operation of the plant, market studies, investments and estimates of operating costs.