China faces an added threat down the road: Capacity glut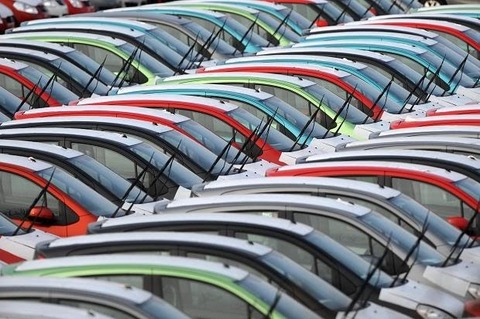 Detroit, Michigan - The news coming out of China right now is bad, and chances are, it's going to get worse.
For weeks, we've been hearing about slowing sales, ever greater price discounts and increasing worries about their impact on profits. In July, vehicle sales fell 7.1 percent to a 17-month low, according to the Chinese Automobile Manufacturers Association. July sales of Volkswagen-branded cars declined 13 percent.
BMW's Chinese partner, Brilliance China Automotive Holdings, reported a 45 percent drop in first-half profit, and fears are mounting that General Motors, VW, BMW and other major foreign players will take a significant hit to their own bottom lines soon. SAIC Motor Corp., which has joint ventures with both GM and VW, said the situation in the short term will "remain grim."
The turmoil is driven by the country's uncertain economy and jittery stock markets. But the auto industry's concern is compounded by what's on tap for the next 12 months: 2 million units of additional production capacity.
Ford and Volkswagen, in conjunction with their Chinese partners, just opened new plants that are still ramping up. Ford also acquired a locally owned auto plant that's due to come online next year. Renault and Peugeot Citroen are opening plants in 2016 with their partners. GM and SAIC are set to begin assembly at a new Cadillac plant early next year.
A separate GM partnership with SAIC and Wuling is going to open a plant for electric cars and hybrids. Also in 2016, Fiat Chrysler Automobiles is supposed to start Jeep production with its partner, Guangzhou Automobile Group Co.
Hyundai could add two more to the mix. It broke ground on one factory in Changzhou in April, and another in Chongqing in June.
"There's a high level of anxiety among the OEMs right now," said Ron Harbour, a partner at consulting firm Oliver Wyman and publisher of the Harbour Report, an annual scorecard of auto manufacturing efficiency.
Harbour noted that the industry has been on a rapid building spree for years, and it won't be easy to slow down now. "There's been a new assembly plant opening about every nine or 10 months, and a lot are in a state of construction," he said.
The Chinese government could find some measures that restore confidence in the economy and encourage the nation's consumers to resume splurging on cars, but that seems unlikely. The actions it has taken so far andmdash; devaluing the currency, propping up stock prices, injecting money into the economy andmdash; have done little.
That's why John Hoffecker, a vice chairman at consulting firm AlixPartners,andnbsp; believes automakers have executives huddling in board rooms, war-gaming responses if the downturn persists.
"There's not an auto company that's not having these discussions as we speak," Hoffecker said. "How long does this downturn last, and is it sustained? What will happen to pricing and will it come back? How long will the yuan stay down? Do we cut capacity?"
Their most immediate moves could be as simple as slowing construction on new plants to delay the start of production, or dialing back investment. Slower development of new models would conserve cash and perhaps push launches out to a time when the market's future course is clearer.
The stakes are high because China has grown so fast for so long andmdash; the market has expanded every year since 1998 andmdash; that automakers have become heavily dependent on it. GM derived 44 percent of its profit in 2014 from China. For VW it was 41 percent.
In the absence of any signs the market will pick up, it's no surprise that SAIC's outlook is shared by many others.
"We cannot rule out that the situation in China is worsening even more than we have assumed so far," BMW's CFO, Friedrich Eichiner, said in a conference call earlier this month.