Researchers probe microbes for a future polymer building block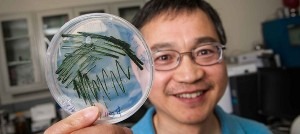 Golden, Colorado - Microbes commonly found in moist, natural environments could eventually be a source of ethylene, the building block for polyethylenes and many other polymers including olefinic elastomers.
Researchers at the US department of energy's National Renewable Energy Laboratory are tweaking cyanobacteria to produce ethylene through photosynthesis. If they can get the yields up, the process might be an alternative to using oil and gas for making the raw material of polymers.
The sustainable process could also have a role in cutting atmospheric levels of carbon dioxide, a greenhouse gas that could be contributing to global warming.
Jianping Yu leads a group at Golden, Colorado-based NREL that is working with a specific strain of cyanobacteria that makes ethylene when exposed to sunlight. Ethylene is one of the chemicals the microbe makes when it converts carbon dioxide to biomass as it grows.
So far the amount of ethylene produced represents about 10 percent of the biomass produced, but he hopes further work over the next few years could boost ethylene yields to 90 percent.
Researchers dissolve nutrients like nitrogen and phosphorus in water, add cyanobacteria and expose the mixture to sunlight. So far a litre of the mixture can make 35 milligrams of ethylene per hour but Yu hopes to boost that to 50 milligrams by the end of the year.
Such minute amounts have no practical application yet but if the process can successfully be scaled up it could be a viable source of ethylene. At current yields, that production rate would give one pound of ethylene per hour in 12,800 liters of mixture. That pound of ethylene could be the raw material for nearly a pound of polyethylene.
Industry has taken an interest in the NREL research. Chemical companies, energy firms and start-ups have been talking to Yu's group.
"At the current pace of progress, I think it will be 10 years before this research could result in semi-commercial farms," Yu said in an email correspondence. Researchers in Japan in the 1990s showed the technology is possible but it does not appear they pursued it as far as Yu's group has.
The NREL system is a bio-based route to ethylene that could avoid the environmental drawbacks of making ethylene from sugar cane or other plant matter. The latter approach entails using lots of water to grow the feedstock plants, and it ties up land that could be used to grow food.
The system would also cut the amount of carbon dioxide emitted into the atmosphere compared to when ethylene is based on oil and gas. Using fossil fuels generates between 1.5 and 3 tonnes of carbon dioxide per ton of ethylene. By contrast, the NREL approach removes 3.4 tonnes of carbon dioxide because the cyanobacteria capture CO2 from the air to perform photosynthesis.
Ethylene production is critical to modern living and is the highest volume petrochemical made on earth. Global production capacity is about 350 billion pounds per year. That would require huge amounts of cyanobacteria but the system works in fresh water and seawater, both available in abundance.
Yu said oxygen is a by-product of the cyanobacteria route. In fact, such microbes are thought to have created most of earth's oxygen billions of years ago when they were the dominant life form on the planet. Cyanobacteria made life possible then and they might be key to the building blocks of the future.