Apollo expands Man U football deal to 129 countries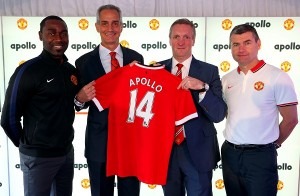 Gurgaon, India – Apollo Tyres has extended its marketing association with Manchester United Football Club to the whole of Africa, Malaysia, Vietnam, Philippines, Singapore, Cambodia, Laos, Myanmar and Brunei.
The extension of the sponsorship and promotion deal is in addition to an existing agreement that covers 67 countries in Asia, Europe and few countries of Africa, said a 28 Aug Apollo release.
This expansion will help us in our brand building journey in the African and South East Asia regions and support our growth initiatives in various countries in the regions," said Marco Paracciani, chief marketing officer, Apollo Tyres Ltd
"The last two years of our association with Manchester United Football Club has helped increase the awareness for the 'Apollo' brand across select markets," Paracciani also noted.
The association between the two organisations has resulted in the introduction of Apollo and Manchester United branded tires in India, Thailand and the UK, according to the tire maker's statement
Last year a 'Go The Distance' football pitch, made using recycled rubber, was also inaugurated at Old Trafford in the UK and the two organisations are seeking to develop young football talent in India.