Guizhou Tire to open new speciality tire plants in 2017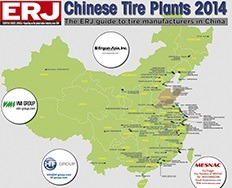 Guizhou, China - Guizhou Tire is building a new speciality tire project including the relocation of three of its plants and the construction of new facilities.
The new site with 242,000 square metres total area is situated in Xiuwen, a county 40km from the company's current location in Guiyang, Guizhou province.
Construction started this January and the plants are expected to begin operation in 2017, the company's board secretary Li Shangwu told ERJ.
The project will have a 3.25 million tire/year capacity when completed, including the annual capacity of 500,000 solid tires, 1.2 million pneumatic industrial tires, 1.1 million small agricultural tires and engineering tires, 180,000 large agricultural tires and radial tires, and 270,000 large engineering tires.
About a fourth of the project's machinery will be newly purchased, and tires produced at the new site will be targeting the mid-to-upper-scale market.
Guizhou Tire has earmarked 1.4 billion yuan (€196 million) for the new project, which is expected to bring in 251 million yuan (€35 million) annual profit on 3.2 billion yuan (€447 million) sales when in operation.
"We also have plans for several other new projects at the site for all tire types totaling 10m set/year capacity," said Li Shangwu. "All projects will be completed in five to six years."