Michelin expects demand challenge in new markets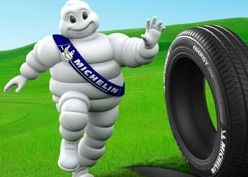 Paris – Michelin expects tire demand to be more challenging in new markets for the second half of 2015, while predicting mature regions to remain on an upward trend.
The French tire-maker released its half-year financial results on 28 July where it said its revenue was up 8.5 percent to €10,497 million and operating income up 9 percent to €1,262 million, compared to the first half of 2014.
Michelin said its objective for the second half is to pursue the growth trends observed in the first six months; predicting that changes in price mix and raw materials prices were expected to have a net negative effect on the businesses over the full year.
"As expected, changes in price mix and raw materials prices had a net negative effect, reflecting in particular the contractual price adjustments under raw materials-based indexation clauses, and managed price repositionings," it said.
Reuters said on 28 July that price cuts had wiped a bigger-than-expected €497 million off first-half sales, dwarfing the €228 million saving from cheaper rubber, steel and oil products used to make tires.
"We're encountering pressure on prices, especially in markets like China and Southeast Asian markets where the Chinese export," Reuters quoted chief financial officer Marc Henry as saying.
In the first half, volumes rose 2.4 percent, said Michelin adding that the company had outperformed the market.
"Passenger car/Light truck tire sales clearly outpaced the market [while] truck tire and speciality business volumes were slightly better than their markets," said Michelin.
On consecutive quarterly result, Michelin said that changes in price mix and raw materials prices had a net negative effect in the second quarter.
"The success of our most recent lines, like the Michelin CrossClimate and the new BFGoodrich tires, as well as our strengthened positions in the original equipment segment, confirm the importance of innovation for the Group's growth. Combined with the expected deployment of the competitiveness plan, Michelin can confirm its full-year guidance," said CEO Jean-Dominique Senard.
The group confirmed its target of delivering an increase in operating income before non-recurring income excluding the currency effects, a return on capital employed in excess of 11 percent, and structural free cash flow of more than €700 million, while pursuing a capital expenditure programme totalling around €1.8 billion.