Uptrend continues in EU car demand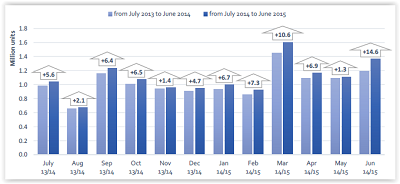 Brussels – Demand for new passenger cars continued its uptrend in the month of June in the EU, registering a 14.6-percent increase and marking the 22nd month of uninterrupted growth.
The monthly growth was the largest registered since December 2009, according to the Brussels-based European Automobile Manufacturers Association (ACEA).
All major markets significantly supported the overall expansion, with Spain holding on to the top position with 23.5 percent of growth, followed by France at 15 percent, Italy at 14.4 percent, Germany at 12.9 percent and the UK at 12.9 percent.
The first half year of 2015 saw a healthy growth in new passenger car registrations at 8.2 percent compared to the same period in 2014, with over 7 million units sold. All major markets posted growth, contributing to the overall upturn of the EU market over the period.
Top contributors included Spain, Italy, the UK, France and Germany.