Chinese car sales, production growth slows down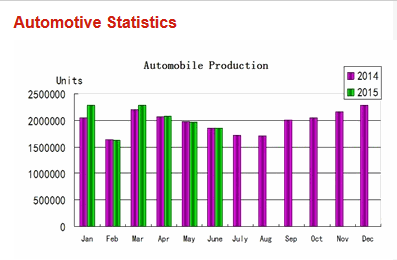 Beijing – Chinese passenger car production and sales growth rates have slowed down by over 6 percent, according to the China Association of Automobile Manufacturers (CAAM).
In a report on market performance for May, CAAM said the production and sales of cars for the first five months of the year 2015 were 10,244,400 and 10,046,200 units respectively, up 3.2 percent and 2.1 percent year-on-year.
"But their growth rates decreased 6.2 percentage points and 6.9 percentage points [compared to] the previous year," added the report.
Sales and production of cars in May were down to under two million units, marking a decrease of 5 percent compared to the previous month.
According to CAAM, production and sales reached 1,964,200 and 1,903,800 units respectively, down by 5.6 percent and 4.6 percent compared to April. The figures showed slight decreases compared to the month of May in 2014.
China's car sales also continued to fall in June, according to AFP quoting a CAAM report on 10 July.
"Vehicle sales in China declined 2.31 percent last month to 1.80 million units," it said, adding that "passenger car sales alone decreased a sharper 3.36 percent to 1.51 million."
Stock market volatility, downside pressures on the economy, and car plate restrictions in some cities were all factors in the declines, the CAAM said.