US judge dismisses shareholder suit against Cooper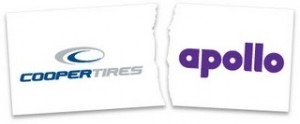 Wilmington, Delaware – A judge in the Delaware federal district court has granted Cooper Tire & Rubber Co.'s petition for dismissal of a securities class-action lawsuit stemming from the failure of Cooper's proposed $2.5 billion (€2 billion) merger with India's Apollo Tyres Ltd.
The plaintiffs also accused Cooper of concealing that Chengshan Chairman Che Hongzhi wanted to bid on Cooper himself.
Cooper filed a petition to dismiss the class action, arguing that the plaintiffs' allegations were without merit. The Delaware court held hearings on the case on 11 March.
In granting Cooper's petition 1 July, Judge Richard Andrews ruled that the plaintiffs failed to prove their assertions that Cooper and its top executives deliberately committed wrongdoing in failing to provide the information about Chengshan and Che to shareholders.
"Where there is no underlying securities violation, there can be no liability," Judge Andrews wrote.
Cooper executives could not be reached for comment.