China expansion part of Continental's master plan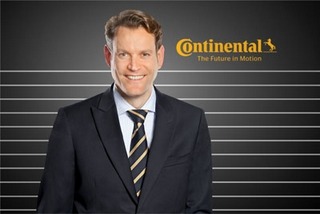 Hanover, Germany—Continental AG's Tire Division is investing about $280 million during a four-year period at its facility in Hefei, China, to boost capacity to 14 million car and light truck tires per year.
The project also will increase bicycle tire production to 13 million tires per year by 2025.
Continental said employment will more than double to 2,700. The 753,000-sq.-ft. facility currently employs 1,150. The firm did not disclose how much the building size would increase, if at all.
Nikolai Setzer, a member of Continental's executive board and the head of the Tire Division, said at the firm's TechShow in Hanover on 9 June that the firm's initial goal in China was to build its replacement business and during that span began the process of gaining approvals from original equipment manufacturers.
Now that the firm has received strong approvals from OE manufacturers, it is ready to expand capacity to meet the incoming demand.
"You have to build over time your replacement market, which we did," Setzer said. "We have in the area of 4,500 shops carrying our brand. We needed that time to ramp up the replacement business in accordance to our distribution power."
The facility in Hefei also produces Continental's commodity bike tires not just for the region, but for the global market. Setzer said Continental has a two-fold strategy in regard to bicycle tires—the commodity and the premium market. He said E-bikes are becoming more prevalent with the rise of leisure sports in the more mature markets, but currently the vast majority of bicycle tires remain in the commodity range.
Continental's only tire plant in China does not produce truck tires, but Setzer said the division is open to producing truck tires eventually there if demand dictates that kind of investment.
A bigger vision
An old BMW equipped with new Continental tire technology (pictured) was shown to have better wet breaking properties than a new BMW equipped with the firm's old tire technology during a test at its TechShow in Hanover, Germany, on June 9.
The investments in Hefei—along with the recent greenfield facilities in Sumter, S.C., and Kaluga, Russia—are part of a more than $1 billion special investment project under Continental's Vision 2025 plan. The firm already has invested more than $2 billion and—if its annual investments of more than $350 million continue—eventually will invest close to $5 billion in the project when finished.
The firm formulated the vision in 2010 with the intent to diversify its global footprint in North America and Asia-Pacific. Setzer said this region has one of the highest growth opportunities and gives Continental more independence from its strong European presence.
"We said within our vision that we want to reach a podium position, which means that we belong to the best in our sector or industry technology-wise and in terms of balanced footprint," Setzer said.
When the firm started Vision 2025, Setzer said tire sales were more than 65 percent based in Europe. Most of the markets in Europe are mature with growth rates much smaller than that of China, India and South America.
"It's not so important what ranking you have; our driving force is value creation," Setzer said. "How to create value and sustainable value and reducing the risk in our portfolio is to grow in those areas where we have a lower presence and higher growth rates."
Each of the three greenfields in China, Russia and the U.S. have entered their extension phase. Setzer said the next greenfield facility most likely will be in the Asia-Pacific region, with another possible greenfield in the Ameri-cas in the future too.
The executive said there should be at least one other announcement between now and 2025. "It depends on the market and the development of the market," Setzer said. "Versus the targets we established in 2011, we're on track."
Continental has doubled its manufacturing capacity recently in Brazil, a plant that began operation about 10 years ago as part of its Vision 2025 plan. The firm doubled passenger tire capacity from about 4 million to about 8 million and truck tire capability from more than 300,000 to more than 600,000.
The 2014 World Cup also helped the firm build a bigger presence in the region.
"We had a strong brand exposure in Brazil," Setzer said. "Through 2014 we've been one of the main sponsors of the World Cup. Our brand was basically exposed everywhere, and we will continue to grow with a more known brand."
Acquisitions possible
In addition to organic growth, Setzer said the firm is open to partnerships—either through acquisitions or joint ventures—if they support the tire maker's business strategy.
One such strategic acquisition occurred in 2011 when Continental purchased Modi Tyres Co. Ltd. for about $25 million, integrating it as a subsidiary, Continental Tyres India Ltd. Within a year Continental expanded the factory to increase its bias-ply truck tire capacity by 230,000 per year and added capacity for 900,000 radial car and truck tires annually—a $71 million investment from 2011-13.
"If there are opportunities that bring us forward, we're looking into it," Setzer said. "But if we don't see those opportunities, we're confident we can do it organically as well. It simply will take a little bit longer. We see even without any acquisitions or partnerships, we are able to reach our 2025 goals."