SRI opens JV tire plant in Turkey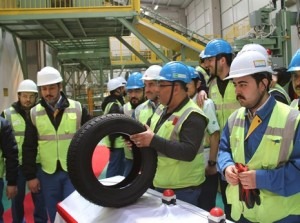 Çankiri, Turkey — Japan's Sumitomo Rubber Industries Ltd. (SRI) and Turkey's Abdulkadir Ozcan Otomotiv AS have started production at their $500 million (€452 million) joint venture tire factory in Cankiri, Turkey.
The plant, which will operate as Sumtomo-AKO Çankiri, will have a daily capacity of 30,000 tires by year-end 2019, with approximately 2,000 employees, the joint venture partners said. SRI owns 80 percent of the venture. Çankiri is a city and province in north-central Turkey, close to Ankara.
Abdulkadir Özcan Otomotiv is the parent of Turkish tire maker Petlas Tyre Industry & Trade Co. and the Turkish importer/distributor of Toyo-, Hankook- and Maxxis-brand tires.
On hand to mark the occasion were: Sumitomo Rubber President and CEO Norifumi Fujimoto; Abdulkadir Ozcan Chairman Mustafa Ozcan; Sumitomo Rubber Industry & Trade Co. General Director Yojiro Miki; Çank?r? Governor Vahid Ozcan; Anil Ermut, president of the Investment Support and Promotion Agency of Turkey (ISPAT); and other invited guests and employees.
Sumitomo said supplying tires from Turkey to these targeted markets will enable it to benefit in terms of lead times and transportation costs as well as put it in an advantageous position to serve Japanese-owned vehicle makers that have assembly operations in Turkey.
The plant takes on added significance for Sumitomo in light of the pending dissolution of its global alliance with Goodyear. One of the terms of that agreement cedes to Sumitomo exclusive rights to sell Dunlop-brand tires in certain countries that were previously non-exclusive under the global alliance, including Russia, Turkey and certain countries in Africa.
SRI bought the Dunlop-brand rights throughout most of Africa and the Middle East from Apollo Tyres Ltd in 2013.