PM checks out Nexen Tire facility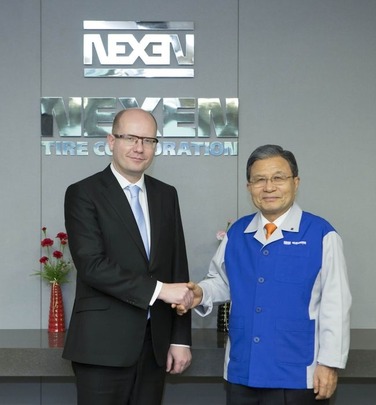 Seoul, South Korea – Czech prime minister Bohuslav Sobotka recently visited Nexen Tire's plant in Changnyeong, South Gyeongsang Province South Korea as part of an official state visit.
The visit, on 27 Feb, marked an MOU between Nexen Tire and the Czech government, which was signed a year ago today, and involves the construction of a new plant in Zatec, the Czech Republic.
Prime minister Sobotka had participated in a presentation session that gave an overview of the automated manufacturing facilities at Nexen's Changnyeong plant, which is a benchmark for the new Czech plant in Zatec,
"We are pleased to welcome Prime Minister Bohuslav Sobotka to Nexen Tire" said the company's chairman Kang Byung-Joong. "We look forward to further cementing our partnership with the Czech government and to set up the best tire manufacturing facility with advanced technology in Europe"
Nexen Tire singed the investment agreement with the Czech goverment in June last year around investing about €829 million to build the new plant on 650,000 square meters of land in Zatec.
The project is intended to help Nexen meet rising demands in Europe, and to supply OE tires to leading car manufacturers, including Fiat, VW and its Skoda Auto and Seat units.
Currently, there are around 30 car manufacturing plants within a 400km radius of Zatec, a Nexen statement noted.
Nexen Tire plans to begin operating the plant in 2018 after construction is complete and then to gradually increase its annual production capacity to over 12 million units. The plant is expected to create more than 1,000 jobs.
Currently, Nexen Tire owns three manufacturing facilities, two in Korea and another one in Qingdao, China.