Tire labelling jamming test laboratories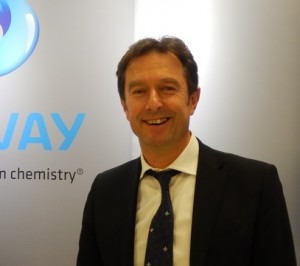 Cologne, Germany – Tire labelling is placing increasing strain on the capacity of test laboratories within the tire manufacturing sector, according to Christian Leger, senior vice president and global business director of Solvay Silica.
Along with an increasing flow of product-development work, the need to test for compliance with the labelling scheme for rolling resistance, wet grip and tire noise "is jamming customer laboratories," Leger told ERJ at Tire Technology Expo.
Leger was explaining the four-year development programme behind Solvay Silica's new Efficium highly dispersible silica (HDS). The product was launched during the TTE show, staged 10-12 Feb in Cologne.
With the number of new technologies increasing rapidly, Leger said "our customers have so many options to consider, making it more difficult to pick the right one. They have to decide where to prioritise."
In developing Efficium, therefore, Solvay became more involved in more of the test stages than it had done before.  This, said Leger, included compounding work with mixer maker HF and having tires built and then tested at the TARCC research centre in the UK.
According to Leger, the new HDS product responds to productivity issues around compounding with silica, which can be significantly more difficult to mix than carbon black.
"In the past, [tire] performance was the main priority. Now the focus is also on productivity, particularly at the mixing unit, which can be very expensive [to run] and cause bottlenecks," said the Solvay Silica boss.
The new HDS is, therefore, designed to allow higher productivity and greater flexibility in producing green passenger car and truck tire compounds due to improved mixing and extrusion throughput.
Flexibility, a Solvay Silica statement added, stems from "silanisation control and reformulation opportunities without compromising on rolling resistance, wear and grip."