Apollo taps Tyromer's devulcanised ELT rubber for sustainable tires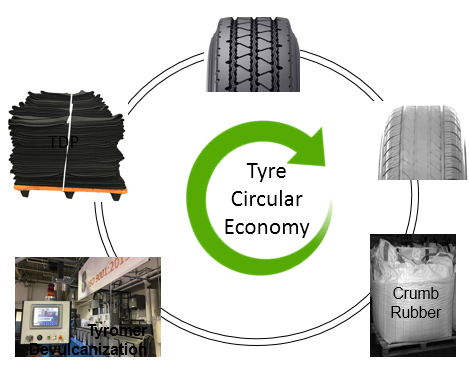 Partnership in India to supply tire-derived polymers for production of new tires
Gurugram, India – Apollo Tyres has partnered with Canadian waste tire recycler Tyromer to advance its sustainability efforts and to honour extended producer responsibility.
As part of the partnership, Tyromer's Indian subsidiary will supply to Apollo, recycled rubber materials which are recovered through non-chemical devulcanisation of end-of-life tires.
"This partnership with Tyromer is a step towards achieving our sustainability goals," said PK Mohamed, chief advisor R&D, Apollo Tyres.
"Producing new tires using the sustainable raw materials, is currently, the most efficient path to meet our circular economy goals," he added.
According to Apollo, using a tonne of tire-derived polymers (TDP) can save greenhouse gas emissions equivalent to four passenger vehicles driven for a year.
Producing a tonne of TDP, Apollo added, requires less than 2 MWh of energy, compared to over 20 MWh required for the manufacture of virgin materials.
Based in Ontario, Canada, Tyromer has developed a patented devulcanisation process wherein crumb rubber is fed into an extruder, and devulcanised rubber is extruded out without the use of chemicals or additives.

According to its website, the company uses "a supercritical carbon dioxide assisted, thermal-mechanical extrusion process to continuously convert scrap tire rubber into tire-derived polymer."