ECHA calls for evidence on restriction of MOCA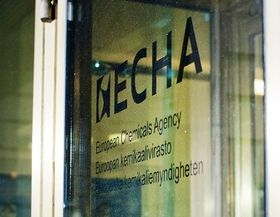 Substance used as curing agent for polyurethane prepolymers in manufacture of urethane rubber products
Helsinki – The European Chemicals Agency (ECHA) has issued a call for evidence on a possible restriction proposal for 4,4'-methylenebis[2-chloroaniline] (MOCA).
The chemical is used principally as a curing agent for prepolymers for the manufacture of castable polyurethane rubber-based products.
Examples of these products include gears, gaskets, sport boots, roller skate wheels, shoe soles, wheels and pulleys for escalators and elevators as well as components in home appliances.
In a statement 5 Oct, ECHA said that MOCA is already on the REACH Authorisation List and the agency has screened its uses and the risks in products.
"We are now looking for information to see whether a restriction proposal needs to be prepared to control the risks to people from this carcinogen that has no safe level of exposure," it added.

The deadline for comments is 16 November 2022.