Sustainability plus at K2022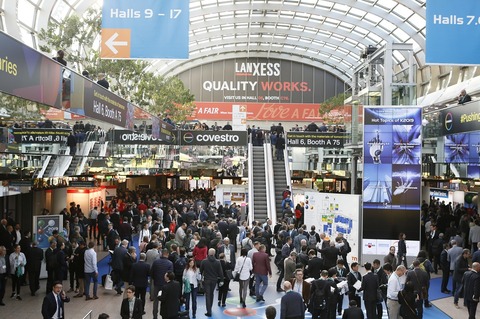 ERJ reviews some of the most eye-catching elastomer/rubber-related technical developments lined up for the world's largest polymer industry expo
Few prizes for guessing that sustainability, energy-efficiency and security of supply will the main themes at this year's staging of the K2022 expo.
However, there will also be a raft of broader machinery and materials technology enhancements on display at the world's largest polymer industry trade fair, taking place 19-26 Oct in Düsseldorf, Germany.
Here, the European Rubber Journal editorial team reviews some of the most eye-catching elastomer/rubber-related developments lined up for the event – from energy-saving manufacturing equipment to the recycling of end-of-life tires into high-value end products.
Beginning on a futuristic note, Asahi Kasei will showcase a next generation concept car, AKXY2, designed to meet the needs of future mobility on the road to automation and electrification. Features include tires incorporating solution styrene-butadiene rubber, made from bio-based butadiene, that improve fuel and energy-efficiency while reducing the microplastics generation.
Overall, the vehicle is said to employ innovations "throughout the entire value chain, from raw materials and production technologies to the usage of recycled and recyclable materials… From textiles to elastomers, Asahi Kasei materials that can contribute to a lower carbon footprint are integrated into the vehicle."
For another take on rubber sustainability – and, indeed, on 'tire wear' – head for the BASF stand, where outdoor clothing made from recycled tires will feature among the exhibits.
Produced via a collaboration with outdoor apparel brand Vaude, the slacks are made from Ultramid Ccycled polyamide 6 fibre, using pyrolysis oil from end-of-life tires to partially replace fossil-based feedstock.
Product from the thermochemical process is used as feedstock at the company's integrated chemicals site in Ludwigshafen, Germany, backed by a certified mass balance approach.
According to BASF, end products have exactly the same properties as the equivalents made from fossil raw materials and can be processed using conventional equipment.
Suppliers come full circle
Kraiburg TPE will showcase its progress around the assessment and certification of its thermooplastics elastomers (TPEs), including work with independent firm Institute cyclos-HTP to assess the compatibility of selected TPS (styrenic TPE) materials in the recycling stream for HDPEs and polypropylenes.
The study demonstrated and certified the compatibility of theTPS materials within the PP and HDPE stream, reported Kraiburg TPE, which will also showcase materials with 20% to 40% content of post-industrial recycled materials at K2022.
The series meets the requirements for OEM automotive exteriors, such as weathering resistance and a high surface quality, according to the company.
These products, it added, "enable suppliers to replace current components with identical components made of recycled materials-based TPE [thus] contributing to the circular plastics economy."
"We'll bring a varied selection of sustainability issues involving material solutions as well as services that accompany the issue and with which we support our customers," says Oliver Zintner, CEO of Kraiburg TPE.
Also contributing to sustainability are additives for the rubber processing industry, as demonstrated by Lanxess' Rhein Chemie business unit, which will present pre-dispersed chemicals, processing promoters and vulcanisation activators.
Features will include additives for the manufacture of long-lasting rubber products across a range of applications such as tires, hoses, seals, profiles, and drive belts.
"Lifetime is an important indicator for sustainable performance of rubber products," said Lanxess, claiming that its additives enable tire compounds to deliver ultra-high performance over the entire end-product service life.
For its part, Schill+Seilacher group company Struktol will present intelligent additive solutions that make polymers more processable and ensure more efficient manufacturing operations and stronger, more durable products. The Stow, Ohio-based company's additives are designed to provide excellent blending and dispersion as well as lubricating process enhancements for the compounder, moulder or extruder. Struktol says its additives are especially efficient in highly filled compounds, and act as compatibilisers while improving surface finish and metal release.
The Luvomaxx business unit of Hamburg, Germany-based Lehvoss will present new collaborations and products from its rubber portfolio at K2022, including a cooperation with Alpha Calcit for the supply of an aluminum trihydrate (ATH) flame-retardant, suitable for wire & cable, mining and public transport applications.
Other cooperations include one with Brisil focused on a "precipitated silica", which the Indian company extracts from rice husk ash, using a patented 'residue-optimised' chemical process at a 7,400ktpa production plant in the state of Gujarat.
Lehvoss will also present products from link-ups with: Magris, USA/Canada (functional minerals for rubber); Oxitec, Brazil (bio-based compositions to reduce or eliminate zinc oxide); and UPM, Finland (renewable functional fillers).
Rubber & tire industry visitors should also check out the Brabender stand, which will present technologies for quality testing and the development of sustainable tire and rubber products on a lab and technical scale.
The Duisburg, Germany-based company will present modular torque rheometers with measuring kneader and extruder attachments, as well as compact extruders and devices for special measuring applications. Devices used in the determination of carbon black from recycled car tires will also feature.
Elsewhere, German group Wacker Chemie will introduce a new liquid silicone rubber (LSR) product series, specifically developed for adhesion to thermoplastic polycarbonate. The Elastosil LR 3078 self-adhesive grades are said to cure "extremely fast" and establish a firm bond with the engineering plastics materialwithout the need to pretreat its surface.
The material has been designed for two-component injection moulding and enables cost-effective large-scale production of multicomponent parts for application in medical and the automotive industries, explained Wacker.
Grades in the new series are formulated in such a way that, "as they cure, chemical adhesion builds up to the substrate, but not to the injection moulding tool."
To achieve this, Wacker said it uses a "newly developed and patented self-adhesive technology that does not contain any bisphenol A structures."
Furthermore, Wacker said the grades do not contain any substances that could result in solid deposits forming in the mould during processing, thereby avoiding interruptions in production.
In addition, said Wacker, devices with "complicated geometric shapes" can be produced "with high precision and without the need for secondary finishing."
The feature could open the way for further miniaturisation of polycarbonate-silicone hybrid parts and for new product designs, the German group noted.
Machinery makers out in force
Hannover, Germany-based Troester GmbH & Co. KG will present the latest advances to its processing machinery and support services for the rubber industry, under a 'sustainable technology made-in-Germany' banner. In addition to its core extrusion products, Troester will also showcase more recent additions to its portfolio, such as the Rotomex gear extruder for straining rubber compounds.
Rotomex, which is designed to ensure low temperature increase of filtered compounds, can be placed in front of another extruder or injection moulding machine, to seamlessly feed the downstream units within an integrated product control loop.
Meanwhile, Troester Group company X-Compound will present its 'continuous kneader' technology for efficiently compounding challenging materials, including sensitive blends and highly filled compounds.
Core applications for the X-Compound kneaders include the preparation of compounds for cables, high-quality flooring and masterbatches.
Among the highlights on the Desma stand will be the new Desma 968.160/50/x Rotary Compact with integrated rotary system for four moulds, said to offer the "basis for highly efficient process automation of large series."
By dividing the vulcanisation time among four stations, cycle time can be reduced to around 30% of a standard cycle to maximise utilisation efficiency of the connected process automation – particularly suitable processes involving long cure times and insert-placements.
Additional downstream processes can be integrated in the actual demoulding station, while an integrated electrically driven rotary system enables fast movement times and can also move precisely to intermediate positions.
An intermediate station can also be introduced for free spraying, for instance, to avoid having to move the die completely away during a compound change or to prevent carry-over of waste material after stoppages in production.
A FIFO-A injection unit is available as a high-pressure version and can be equipped with FlowControl+ nozzle technology to further reduce heating times and for nozzle closing.
Five regulating pumps provide multiple parallel movements to minimise machine times and maximising output using the four available moulds.
The machine can also be operated with three or two moulds, or even just one, so that the machine can continue to operate, for example, during mould-maintenance.
Also in the moulding sector, LWB Steinl will present the latest version of its multi-station elastomer injection moulding system, which combines one or more, usually smaller, vertical machines with separate heating/cooling or post-processing stations.
Within the system, just cavity plates instead of complete moulds are transferred via industrial robots in a circuit between system modules: allowing for running heating or cooling times in parallel to the machine, freeing up capacity in the machine for additional injection cycles.
The set-up, says LWB Steinl, offers users a production system that can work with the same mould size from the prototype phase to series production by increasing the number of cavity plates in circulation.
The number of cavity plate-sets is limited by the equilibrium between the maximum possible injection cycles of the machine and the heating or cooling times of the cavity sets, including the transfer times.
This, says the company, offers an alternative to traditional all-in-one-machines, which would at project-start be combined with multi-cavity moulds already designed for subsequent series production.
Conversely, in tune with demand, individual exchangeable mould-sets can also be taken out of circulation in stages to free up capacity for other applications.
Energy-saving will be the focus of Maplan's trade fair presentation: the company having analysed "all power consumers in an injection molding machine and developed more economical alternatives which pay for themselves in the short term and reduce production costs."
As an example, a horizontal machine (RAPID+ series) with servo-electrically driven ejectors will be on display at K2022.
At the Düsseldorf show, Wickert will demonstrate how data on temperature, press pressure, and vacuum from several elastomer presses is transmitted live via an OPC UA interface. The data originates from the ongoing production of a German customer.
The machine manufacturer is to offer the cross-platform data exchange over the standardised interface as an option for all press systems in compliance with the current VDMA standards "OPC UA for Machinery". The solution incorporates the entire installation up to the data transfer point.
From there, information can be readily integrated into production control MES systems, enabling central monitoring and control of production in real-time – and giving production managers a clear overview of the most important machine data.
Italian manufacturer of co-rotating twin-screw extruders MARIS SpA is presenting at K2022 a new two-step, devulcanisation process. Called Erovec Rubber plus, the innovative system is designed to produce devulcanised rubber with very high-quality standards.
The first stage involves devulcanisation of the rubber by means of a corotating twin-screw extruder, according to the machinery company.. The rubber thus devulcanised will feed, by direct connection, the second extruder.
In the second stage, the combination of a single-screw extruder and a screen-changer offers the possibility of achieving significant advantages says MARIS.
Sudden cooling of the devulcanised rubber: this operation makes it possible to contain the temperature of the extruded strip while minimising rubber degradation.
The effects are observable both in terms of mechanical properties of the recycled material and in terms of reduced odor gas emissions, the comapny notes.
Rubber filtration: this operation, made possible by the high thrust capacity of the single-screw extruder, allows the devulcanised rubber to be filtered before extrusion.
This, again, serves to increase the mechanical properties and, more generally, the qualities of the recycled material, explains MARIS.