Rubber futures continue to gain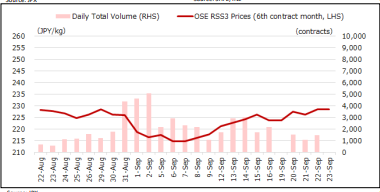 Second week of closing higher as Chinese market picks up
Tokyo – Rubber futures in Far East marekts closed higher during the trading week ended 23 Sept, marking the second consecutive week of improvement after two months of facing selling pressure.
In Japan OSE rubber futures rose 2% amid fewer trading days while China's SHFE and INE futures increased 1.4% and 1.8%, respectively, according to the latest NR trading update by Tokyo Stock Exchange JPX.
In Singapore, SICOM futures were traded within a tight price range and closed slightly higher.
JPX linked the gains to seemingly "active short-covering trading" in the Chinese markets, prompted by the eased lockdown in Chengdu.
Furthermore, an additional economic stimulus package, expected to be announced 20 Oct in China, improved market sentiment.
On the physical rubber market, premiums of SIR20 for FOB deliveries shrunk to about $0.05/kg, according to the JPX report.
Producers, it said, are still facing a difficult situation dealing with high raw material prices.
As for the exchange warehouse stocks in China, SCR WF/RSS increased by 8,875 tonnes, while TSR20 dropped sharply by 7,439 tonnes.