Hankook debuts 30% sustainable material Formual E tires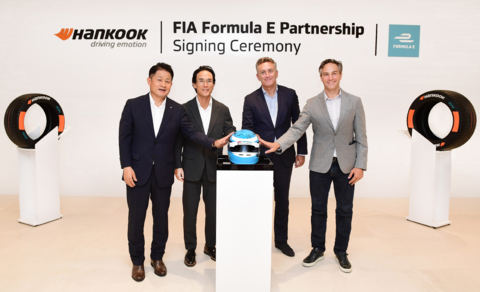 Korean tire maker takes over from Michelin to become exclusive tire supplier of the event
Neu-Isenburg, Germany – Hankook Tire has unveiled its newly developed Hankook iON race tires which will power the FIA Formula E World Championship this season, starting 14 Jan 2023 In Mexico City.
As the exclusive tire supplier to the event, Hankook said it developed the tire in close cooperation with the racing series, with particular focus on sustainability needs of Formula E and the future of e mobility.
Nearly 30% of the new tire, which is specially tailored to the third generation of Formula E race cars, is made of sustainable materials, said Hankook in a 28 Sept statement.
The Formula E teams currently have access to a tire variant that can be used in both dry and wet conditions, in order to further save resources.
Furthermore, Hankook said it would completely recycle every set of tires after each race weekend to make the championship as sustainable as possible.
Hankook is taking over from Michelin Group, which was a founding partner and an investor in the ambitious project from the outset in 2013.
"We will advance and significantly influence the development of modern motorsport over the coming years," said Hankook Tire & Technology CEO and president Sooil Lee on the new collaboration.
According to Hankook, consumers area also benefiting from the development of the Formula E race tires, through the tire maker's "race to road technology transfer".
The iON road tires have been developed for both summer (Hankook iON evo) and winter (Hankook iON Winter) use, and are claimed to offer 'significantly low' rolling resistance.