Hankook investing €1.6bn in US tire plant expansion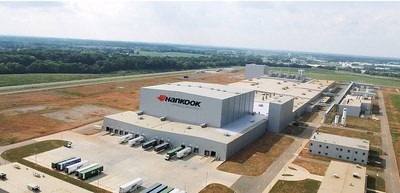 Two projects at Tennessee facility to 'more than double' local manufacturing capacity
Nashville, Tennessee – Hankook Tire has announced a major expansion project at its tire production facility in Clarksville, Tennessee, which will see local manufacturing capacity more than doubled by the end of 2026.
The $1.6-billion (€1.6 billion) project will include the previously planned phase 2 expansion to increase production capacity for passenger car and light truck tires by 100%
It also adds a phase 3 project to build the company's first US facility for the production of truck bus and radial (TBR) tires, said Hankook 29 Aug.

Set for start-up in the fourth quarter of 2024, the expansion will create 400 new jobs, bringing the total number of employees to 1,200 people.
The project will ramp up to full capacity by early 2026, doubling passenger car tire production to 11 million units per year, and manufacturing 1 million TBR units annually.
The expansion brings Hankook's total investment in the area to $2.2 billion, enabling it to respond to consumer demand in the American market.
"The investment in our Tennessee plant further demonstrates Hankook's growing presence in the US and commitment to serving our customers," said Sooil Lee, CEO of Hankook Tire & Technology and president of Hankook Tire America Corp.
"The new phase… will provide an effective local-to-local supply chain to more effectively fulfil customer demand," he added.
Hankook opened its Tennessee facility in 2017, and currently manufactures 5.5 million passenger car tires per year at the site.
The North American market accounted for more than 28% of total Hankook Tire sales in 2021, which stood at just under $6 billion.
"This production expansion is a vital step to our growth in the medium truck market," said Rob Williams, SVP North America sales.
The move, he went on to say, will make Hankook "one of only a few" manufacturers producing TBR products in the US.
"As a result, we can better meet the needs of both our growing dealer base and the fleets that serve the North American shipping lanes."
Hankook is expected to break ground on the project in early 2023, subject to definitive agreements, regulatory approvals and other conditions.