Analysis: What next for China's Covid-hit tire markets?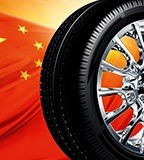 Tire makers hoping to avoid return to challenges that emerged during the first half of 2022
London - Despite some recent positive signs, tire makers remain unsure about the current direction of Chinese tire markets, so severely impacted by Covid-related restrictions over recent months.
And with few signs, if any, of the Chinese government moving away from its zero-Covid strategy, the uncertainty will likely hang over both the OE and replacement tires markets to the year-end.
During the first half of 2022, the resurgence of the health crisis in China had a major impact on domestic demand, particularly in the second quarter.
However, tire makers noted a significant pick-up in June with an easing of restrictions, while businesses were reportedly finding ways to continue operating amid the crisis.
In July, for instance, Michelin reported passenger car tire demand in China "rebounding past 2019 levels in June as health restrictions were lifted." That followed "new lows" in demand caused by the crisis during April and May.
At Pirelli, executive vice chairman and CEO Marco Tronchetti Provera said the situation in China "is progressively improving" though adding that "uncertainty related to new lockdowns remains."
In a 4 Aug first half results conference, the Pirelli boss linked the improvements to the resumption of production activity and Chinese government incentives to support the industry and consumption.
In June, he said, a "significant rebound" in OE demand was supported by the recovery in car production and government incentives for the purchase of new vehicles, especially EVs. There was also encouraging demand for larger diameter tires.
On the other hand, the Italian group did not discount the possibility of a further slowdown in China: due to the risk of lockdowns resulting from new Covid outbreaks.
For instance, it said "replacement demand in China that is going back to a normal level slower than what was expected in the previous quarter."
At US tire group Goodyear, chairman, CEO, president Rich Kramer, on 5 Aug, also noted encouraging signs of business recovery and improving consumer confidence in the Chinese tire market.
Kramer was hoping that there would be no return to the Covid disruptions, which led to shutdowns of its Pulandian and Kunshan tire plants.
The enforced closures, in March and April, cost 700,000 units of production, which the US tire group valued at about $10 million.
Indeed, all tire makers will aim to avoid the unexpected challenges encountered during the first half of 2022 - as detailed by market figures included within Michelin's interim report.
OE passenger car tire sales in China totalled 54.2 million units over the six months to 30 June about level with the same period last year.
However, it was a 'game of two quarters' for the Chinese OE car tire market: a 6% year-on-year increase over the first three months being reversed to a 6% decline in the second quarter.
China's replacement tire market was already in decline in the first quarter with a 10% year-on-year drop in sales.
Combined with a second-quarter fall of 23%, replacement sales came in at 54.9 million units - 16% below the same period of last year.
Truck tire markets in China went on a similarly negative track though with some differences compared to the consumer segment over the first two quarters
Chinese OE truck tire sales were 53% down on the prior-year first half at 9.0 million units, with declines of 53%, and 50% in the first and second quarters respectively.
Replacement truck tire sales fell 22% over the first six months, to 16.6 million units, as a first-quarter year-on-year drop of 25% was followed by an 18% year-on-year decline in the three months to 30 June.