ERJ Tire Tracker
Bridgestone developing tires for hydrogen car Hopium... Michelin taps Enviro for 'even more sustainable' bike tires... Racetrack debut for Firestone's guayule rubber tire
​
ERJ tracks latest announcements from global tire manufacturers about new OE fitments, road testing results and advances in compound development and tread design
May/June
Bridgestone developing tires for French hydrogen car maker Hopium
Paris – French manufacturer of hydrogen-powered vehicles Hopium is partnering with Bridgestone to develop custom-made tires for its high-end sedan, Hopium Machina. The goal of the partnership is to design tires with low rolling resistance technology to help improve the vehicle's 1,000 km driving range.
Goodyear introduces new all-season tires
Goodyear has expanded its all-season Mastercraft Courser portfolio, introducing the Courser Trail and Trail HD, as well as the Courser Quest and Quest Plus. The four tires, now available on the market, feature enhanced tread life and performance factors, according to Goodyear.
Michelin taps Enviro for 'even more sustainable' bike tires
Tire manufacturer Michelin has produced a new version of its motorcycle racing tire, with "an even higher share of sustainable material". Developed ahead of the MotoE World Cup racing series, the new version consists of an average of 40% sustainable material, up from 36% in the previous season. A significant portion of the sustainable material is recovered carbon black supplied by waste tire pyrolysis company Enviro.

Pirelli receives JD Power OE tire award
Pirelli has scored highest in the passenger car segment in the JD Power 2022 OE tire customer satisfaction study. This is the second time in three years that Pirelli receives the title.

Bridgestone developing "hyper-efficient" tires for Mercedes-Benz Vision EQXX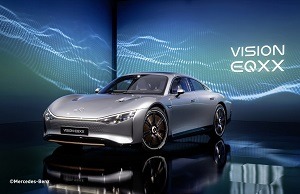 Bridgestone has been selected by Mercedes-Benz AG as the development partner for tires for its technology programme, the Mercedes-Benz Vision EQXX. The custom-made Turanza Eco tires feature the Enliten lightweight technology to reduce rolling resistance and weight by up to 20%. The tire uses ologic technology to enhance battery range by means of a large tire diameter.

Apollo launches new gen farm tires
Apollo Tyres has launched a new generation agriculture tires – the "Virat" range – which is claimed to offer "superior performance" compared to competitors. The tires, feature 20 lugs, providing strong grip and long life in both soft and hard soil conditions.

Racetrack debut for Firestone's guayule rubber tire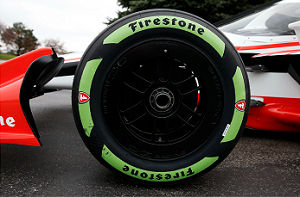 Bridgestone Americas is planning to debut Firestone Firehawk race tires made with guayule natural rubber during the Indy 500 Pit Stop Challenge, to be held 27 May. The tires, made from rubber harvested at Bridgestone's guayule R&D facilities in Arizona, will make their competition debut at the Big Machine Music City Grand Prix in Nashville on 6-7 August.

Michelin launches CrossClimate 2 SUV tires in Europe
On May 1, Michelin announced the European launch for the CrossClimate 2 SUV tire, a new generation of 4-season tires which are claimed to offer strong performance in terms of dry breaking, wet braking, snow braking and wear.
March/April
BMW M3 refinement from AC Schnitzer to roll on Conti SportContact 7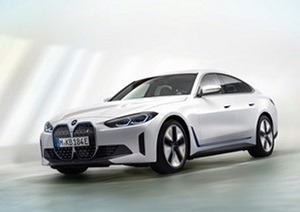 Aachen-, Germany-based high-tech tuning company AC Schnitzer is currently refining BMW M3 vehicles upgrading total power to 610hp, with speed of up to 300k/h. The car will roll on the new SportContact 7 from Continental, to be fitted in size 285/30 R 20 at the front and 295/30 R 20 on the drive axle.

Hankook impress in summer tire tests
Hankook's Ventus S1 evo 3 SUV tire has been crowned as "test winner" in a recent independent summer tire test by Auto Bild Allrad. The editorial team's "exemplary" rating was based on "top off-road and dry road performance". The SUV variant of the UHP flagship also proved to be a good off-road choice with "good traction on loose gravel and muddy terrain".

Nokian connected tires win Fennia good design award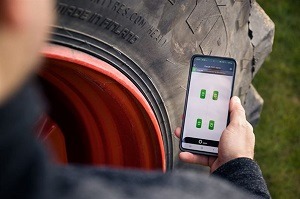 The Nokian Ground King Intuitu smart tires have been awarded the Fennia good design award, for its combination of Hybrilug tread pattern technology and wireless connectivity. The Hybrilug pattern, according to Nokian, bridges the gap between a lug and block pattern tire, and is "unlike anything else in the market". The tire also uses Nokian's Intuitu smart tire sensors and application, to optimise efficiency of tires for operators.
GM awards five tire makers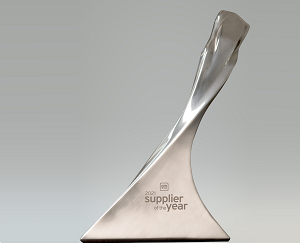 US car maker General Motors has recognised five tire makers as supplier of the year 2021. The tire makers include Bridgestone, Cheng Shin Rubber/Maxxis, Goodyear, Hankook Tire and Michelin, said the car maker 17 March. The companies were among 134 suppliers honoured by GM.
New Pirelli P Zero Elect tires for the all-electric BMW IX
Pirelli will supply P Zero Elect tires as original equipment to the new all-electric BMW iX, for the xDrive50 version and the sportier M60. P Zero Elect tires are available for the BMW iX xDrive50 version in 255/50R21 109Y XL and 275/40R22 107Y XL sizes, with the latter size also available for the sportier M60 version of the SUV.
Falken given "exemplary" rating by Autobild
Falken's Azenis FK510 has been awarded an "exemplary" rating by German sportscar magazine Autobild in its summer tire test, after placing third in the overall rankings. The Azenis FK510s were found to have performed particularly well in safety, finishing high up the order in both the wet and dry braking tests, the tire maker announced.
Bridgestone tires OE fitment on Maserati Grecale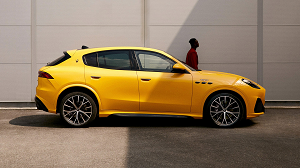 Bridgestone has been chosen as tire partner for the Maserati Grecale, providing Potenza Sport tires for the Italian company's latest D-segment utility vehicle (D-UV). As part of the partnership, Bridgestone is providing fitments for the range-topping Trofeo and MHEV mild-hybrid versions of the Grecale. The Potenza Sport fitment for the Maserati Grecale Trofeo includes an asymmetric tread design with continuous centre ribs that are flanked by a large external shoulder. For the Grecale mild-hybrid versions the tires meet a challenging balance that includes dry handling, comfort and low rolling resistance, with a tailor-made tread pattern featuring optimised rib and void distribution.
Goodyear introduces 16 new sizes for Eagle Exhilarate
Goodyear has debuted 16 new sizes for the Goodyear Eagle Exhilarate, its premium ultra-high-performance, all-season tire. The tires feature technologies such as ActiveGrip for handling and traction; ActiveBraking for enhanced braking on dry and wet surfaces; and Wear Gauge which helps gauge remaining tread depth and vehicle alignment
Pirelli introduces EV replacement tires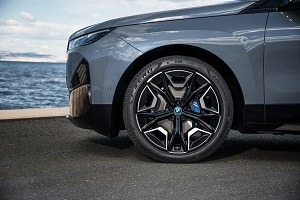 Pirelli has launched its first replacement tire developed specifically for electric vehicles in North America. The P Zero All Season Plus with "elect" marking, has low rolling resistance, designed to increase the driving range while reducing consumption. Compared to a non-elect P Zero All Season Plus product, the new tire has shown a reduction of 15% of rolling resistance, Pirelli said. The tires will be available from 18 to 20 inches and come with a 50,000 mile limited treadwear warranty.
Hankook iON designed for electric vehicles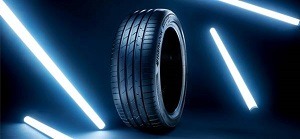 Hankook is launching iON family of electric vehicle tires in May. The tires, Hankook said, have reduced rolling resistance and high resilience compared to conventional tires. The products will initially be available in three designs at the market launch, in sizes between 18 and 22 inches: in Europe from May 2022 as the Hankook Ventus iON S summer tire pattern, and from September 2022 for the winter season as the Hankook Winter i*cept iON. The Hankook Ventus iON A tire will be available as an all-season version for the North American market.
Ferrari rolling on Michelin tires
Michelin has been chosen by Ferrari as an official tire supplier for its new 296 GTB. As a result, Michelin will supply two different tires for the car – the Michelin Pilot Sport 4S K1 for predominantly road driving, and the road legal Michelin Pilot Sport Cup 2R K2 for tracks.

Dunlop "SP Sport Maxx 050" on new Nissan Ariya crossover EV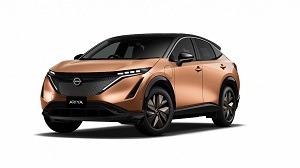 Sumitomo Rubber Industries has begun supplying high-performance Dunlop SP Sport Maxx 050 for Nissan Motor's Ariya crossover EV. The tires, SRI said, incorporate advanced new compounds and the company's Silent Core technology.
Hankook expands Ventus Prime tires family
Hankook has expanded the Ventus Prime family of high performance tires with the addition of Ventus Prime 4. The tire succeeds Ventus Prime 3, which Hankook says is its best-selling tire in Europe. Available in 67 sizes from 16 to 20 inches, in tread widths from 195 to 255 mm, the tire features "high mileage compound technology". The technology involves higher silica content, resulting in lower rolling resistance and less wear compared to predecessor.
Yokohama extends offerings to BMW
The Yokohama Rubber Co. has begun delivering 20- and 21-inch Advan Sport V107 tires to BMW M GmbH for use on the automaker's M3 and M4 high-performance sports models. Yokohama Rubber is supplying 285/30ZR20 (99Y) size front tires and 295/25ZR21 (96Y) rear tires. YRC had been previously supplying 18- and 19-inch tires as OE for the same models since November 2020.
Hankook Ventus on VW vehicles
Hankook has expanded its OE partnership with VW with OE agreement for three further vehicles from the Wolfsburg-based car manufacturer. Ultra-high-performance (UHP) tire patterns Ventus S1 evo 3 will be fitted on the Golf GTI und Golf R; and Ventus S1 evo 2 SUV or evo 3 SUV on the Tiguan R, the tire maker said.
Jan/Feb 2022
Hankook remains exclusive tire partner for W Series
Hankook has been selected as the official tire partner for W Series for a third season. The all-female single-seater series will race with Hankook's high-end Ventus Race tire at eight Formula 1 weekends in 2022. Hankook has been a W Series partner since the formula racing series debuted in 2019.
Stellantis rolls on 'double A rated' Conti tires
Continental has developed a tire, based on its EcoContact 6 (215/60 R17 96H) with "a significantly improved rolling resistance" for Peugeot, DS and Vauxhall vehicles with electric drives and combustion engines. All electric SUVs, the Peugeot e-2008, the Vauxhall Mokka-E and the all-electric DS 3 Crossback E-Tense, as well as the combustion engine versions of these models, will be factory-equipped with the 17-inch double A-rated tire, according to Conti.
Michelin launches new Evobib farm tire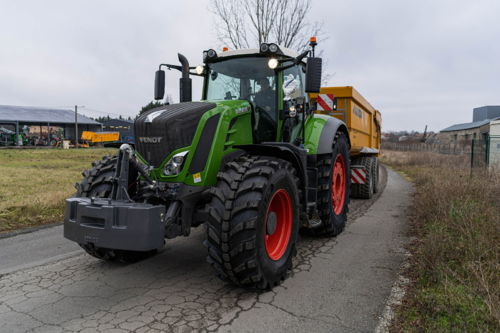 Michelin is launching a new version of its Evobib farm tire, which received a SIMA gold medal for innovation in 2017 for the 2-in-1 concept. The tire is specifically designed to be used with central tire inflation systems (CTIS), which offers an adaptive design for both road and field use. Two sizes of Michelin Evobib: VF 710/70 R 42 and VF 600/70 R 30, will be available for farmers from 1 April.
First test win for the Continental SportContact 7
Continental SportContact 7 received first place in the Tyre Reviews 2022 ultra high-performance test, the tire's first ever test win. According to Conti, the new model features many improvements over its predecessors, including a reduction in wet braking distances by 8% and 6% better in dry braking. According to Jonathan Benson of Tyre Reviews the tire "sets a new benchmark in the wet, finishing both tests with an impressive gap to the next best tire."
Hankook tires on 2022 Infiniti QX60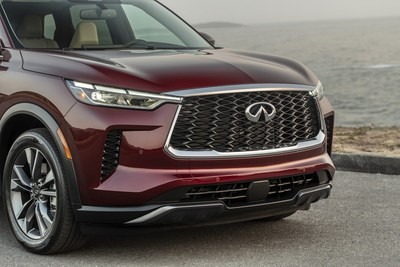 Hankook's all-season Dynapro HP2 has been selected as OE fitment on the new 'luxury SUV' Infiniti QX60. The tire, to be supplied in size 255/50R20, features low noise, good handling response and low rolling resistance. The tire has a high density polyester carcass that improves steering stability and handling response while a high loading silica compound lowers rolling resistance for improved fuel efficiency.
Conti launches new tire for airport ground support operations
Continental has launched a new all-season industrial tire for airport logistics, with high braking performance both in summer and winter. The tire, which features three-rib tread for improved braking, and angled pocket sipes for optimum traction, will spare fleet operators from changing the tires every season. The tire is produced in Continental's production site for industrial material handling tires in Otrokovice, Czech Republic.
Sumitomo Rubber launching first replacement tires for EVs

Specially developed Pirelli P Zero tires are fitted on the new Alfa Romeo Tonale, the Italian brand's first mass production electric vehicle. In size 235/40R20 96V XL, the P Zero has been chosen as OE for the various versions of the Tonale: hybrid, plug-in hybrid Q4 and diesel. The two Milanese brands said they had been working on developing the tires for the vehicle since 2019.
Yokohama's Advan Sport V107 on leading German car makers

Yokohama Rubber has begun delivering Advan Sport V107 tires to BMW for OE use on the BMW X5 M performance sports activity vehicle (SAV) and BMW X6 M performance sports activity coupe (SAC). Yokohama had previously supplied Advan Sport V105 as OE
In addition, Yokohama is supplying the Advan Sport V107 tires to Mercedes-AMG for the group's electric vehicle Mercedes-AMG EQS 53 4MATIC+. The new EV is being fitted with 275/35R22 104Y size front and rear tires.
Continental supplies farm tires to New Holland

Continental AG has started supplying TractorMaster and VF TractorMaster tires for the New Holland T5, T6 and T7 tractor series. The New Holland tractors series will be equipped with tires of various sizes to better meet customers' needs. The tire portfolio ranges up to a tire width of 710mm and a rim diameter of 42''
Pirelli unveils the new Diablo Rosso IV Corsa
Pirelli has unveiled the new Diablo Rosso IV Corsa bike tires, which is claimed to be a 'fiercer version' of its predecessor Diablo Rosso IV. The limited edition "high-performance hypersport tire" offers higher grip in dry conditions, helped by a slicker tread design that offers a larger footprint area.
Trelleborg displays "cutting-edge" tech for next generation farming
Trelleborg is exhibiting TM1000 ProgressiveTraction at the National Farm Machinery Show 2022, held in Lousiville, Kentucky in February. The tire is claimed to provide "superior flotation, less stress on the soil and unbeatable traction," compared to other products on the market. The tire, Trelleborg said, is designed to reduce fuel consumption and emissions, and assures "premium handling and comfort while extending tire life".
Nokian unveils new light truck Hakkapeliitta winter tires
Nokian is launching a new range of winter tires for van and delivery vehicles this autumn. The Hakkapeliittas range includes Hakkapeliittas C4 studded tire to "master all the elements of winter" as well as Hakkapeliitta CR4 Nordic non-studded tires for urban streets and unploughed urban gravel roads. Nokian said it increased the durability of the tires using Aramid sidewall technology. Key markets for the tires are the Nordic countries and Russia.

Yokohama's Geolandar X-CV factory-equipped on Toyota's Lexus LX

Yokohama Rubber began supplying Geolandar X-CV highway terrain tires to Toyota Motor in January for use as original equipment tires on the new Lexus LX SUV. The Lexus LX is being fitted with 265/55R20 and 265/50R22 size tires. Geolandar is Yokohama's brand of tires for SUVs and pickup trucks, and the company is accelerating the expansion of the brand's lineup.
Conti's crossover tires on Land Rover Defender, Kia EV6
All Land Rover Defender models, including the plug-in hybrid, are now equipped ex-works with Continental's 19 and 22-inch CrossContact RX crossover tires. The line of tires was developed for crossover and sport utility vehicles (SUVs) and features a performance profile that is both sporty and suitable for off-road use. In addition, Conti is supplying its PremiumContact 6 and CrossContact RX tires, equipped with ContiSilent technology, to the all-electric Kia EV6 sporty crossover car in the UK.
ZC Rubber OE on Hyundai trucks in China

ZC Rubber is supplying new patterns and sizes of truck tire ranges for various Hyundai long-haul truck models in China. These include Hyundai Hongtu EV model, a pure electric light truck, which is equipped with ZC Rubber's high-performance tires. ZC Rubber will also be an OE tire supplier for the premium truck Hyundai Xcient for improved fuel economy.
'Top marks' for Falken summer tires in 2022 ADAC wear test
​
The Falken Azenis FK510 summer tire has been awarded "top marks" in the 2022 ADAC tire wear test, which examined the tire abrasion particles produced by three summer and three winter tires from 15 tire manufacturers. The Falken Azenis FK510 came first in the 225/40 R18 fitment category, while the Falken Ziex ZE310 Ecorun came third in fitment 185/65 R15, contributing to Falken placing fourth overall.

Conti launching new UltraContact for summer tires
​
Continental is set to launch the new UltraContact passenger car summer tires, with 'redesigned compound and tread' to offer more mileage potential, safe handling, short breaking distance and low rolling resistance. Scheduled for spring launch, the tire tread features 'YellowChili' durable compound which reduces wear.
Conti's PremiumContact 6 on new electric Jaguar, Polestar 2
Continental has announced a series of new OE supply contracts, including with Jaguar Land Rover for the new all-electric I-Pace SUV. Conti will be supplying 22-inch PremiumContact 6 summer tires, featuring an extra load rating and ContiSeal puncture protection, as original equipment for the latest iteration of the car. Similarly, the all-electric Polstar 2 is equipped with PremiumContact 6 and SportContact 6 tires as OE fitment. Conti will supply the tires in size 245/40 R20, with featuring ContiSilent technology for quiet driving experience.
Hankook unveils futuristic airless i-Flex concept tire
​
Hankook unveiled the latest version of its airless i-Flex concept tire at the Consumer Electronics Show (CES), held in Las Vegas early January. The non-pneumatic tire, mounted on Hyundai's Plug & Drive (PnD) module, has a "biomimetic design" which enables "excellent shock absorption and load-bearing capacity". To achieve the properties, Hankook said it adopted a "multi-layer interlocking spoke inspired by the cellular structure of living organisms."
Dunlop sport on new Subaru WRX S4
Dunlop 'SP Sport Maxx GT600A' tires, by Sumitomo Rubber Industries, have been selected as factory standard tires for the latest Subaru WRX S4, which was unveiled last November. The tire incorporates "an innovative new rubber compound" that provides balanced high performance in terms of both rolling resistance and grip. It also incorporates a tread pattern to harness maximal cornering force.
Yokohama's Advan Sport V107 pm Brabus 'off-roader'
​
Yokohama Rubber's flagship brand tire Advan Sport V107 has been approved by Germany-based Brabus for the Brabus 700/800/900 off roader based on the Mercedes-AMG G 63. The tires will be supplied in size 305/35R23 111Y XL.
NOV/DEC 2021
Yokohama Geolandar factory-equipped on Mitsubishi Outlander
​
Yokohama Rubber is supplying Geolandar X-CV as OE for Mitsubishi Motors' new Outlander SUVs. The tires have been used on Outlander petrol models sold overseas since July 2021. Shipments of the tires for PHEV models to be introduced in Japan, Australia and other countries began in November this year. The SUVs are being fitted with 235/60R18 103H size tires.
Goodyear launches Urbanmax tires for electric bus fleets
Goodyear has launched Urbanmax MC HL+, an electric tire designed to maximise the efficiency of city bus fleets. Based on the company's Urbanmax MCA design, the new tire is adapted to support additional battery loads while enhancing lower energy consumption. The technology in the tire, which includes a new tread compound, design and construction, supports the need for operators to reduce CO2 and noise emissions, particularly in densely populated areas.
Cupra Born, Audi Q4 e-torn rolling on Bridgestone tires
​
Bridgestone has been selected as tire partner for the first all-electric vehicle from Cupra, the Cupra Born. Custom-engineered Bridgestone Turanza ECO tires, equipped with lightweight Enliten Technology help the vehicle to reach a range of up to 548km between charges. Furthermore, Bridgestone will be supplying Turanza ECO summer and Blizzak LM005 winter tires for the Audi Q4 e-tron – Audi's first compact, fully-electric SUV.
Michelin launches "Connected Fleet"
​
Michelin has launched a new umbrella brand for fleets. Connected Fleet combines all of the frnch group's fleet management services and solutions under the same banner, including Masternaut in Europe, NexTraq in North America, and Sascar in South America. The new unit encompasses support currently provided to 70,000 customers worldwide, representing a fleet of 600,000 vehicles in 48 countries.
Hankook introduces new OTR tire for Europe
​
Hankook is expanding its off-road SUV range in Europe with the launch of Dynapro MT2, a tire designed for "difficult terrain". A successor to the Dynapro MT, it is available in over 19 dimensions from 15 to 20 inches. Features include "split mould technology", which is claimed to make the tire more robust than its predecessor. The product appears as if it has been seamlessly cast from a single mould.
Pirelli zeros in on UHP tire of the year title
The Pirelli P Zero has been delared as the 'best ultra high performance' tire of the year by evo magazine for a second time, according to the Italian tire maker. Pitted against eight other "well-known" competitors, the tire topped the evo test and was described as "a tire that proves you can have (almost) everything."
Auto Bild names Hankook 'best manufacturer of 2021'
Hankook has been named best manufacturer for its all-season line of tires by Auto Bild magazine. The Hankook Kinergy 4S 2 all-season model range "made it to the podium" in each of the relevant product tests conducted by the magazine. A key factor was "the very high safety margins across all weather conditions in the tests."
Maserati Opts for new Continental SportContact 7
​
Maserati has opted to use Continental's latest 'premium offering' the SportContact 7 as OE on its Levante and Quattroporte vehicles. The tire, which succeeds SportContact 6, features "an adaptive tread" capable of ideally responding to both wet and dry road conditions. Furthermore, Conti has used its "BlackChili rubber compound" to fine-tune the product "for optimal traction."
Pirelli unveils new Diablo Ross bike tires
Pirelli has announced the arrival of the new Diablo Rosso IV Corsa, a high-performance "hypersport tire" that is claimed to offer sporty performance in supersport, naked or hypernaked bikes. The tire offers 'higher grip in dry conditions", "enhanced hard handling" and "performance consistency" compared to its predecessor Diabolo Rosso IV.
Audi A3 factory-fitted with Falken tires
​
The Falken Ziex ZE310 Ecorun tire has been selected by Audi to be factory-fitted onto the Audi A3. Falken is supplying the tires to the Audi plant in Ingolstadt, Germany, where the dynamic compact class is manufactured. The tires are claimed to offer "excellent traction and grip on both wet and dry driving surfaces, supported by enhanced wear performance."
Continental launches new loader tire
Continental has launched the CompactMaster EM, a new telehandler and compact loader tire. The tire has been "specifically designed" to help operators handle demanding rough conditions and features "Turtle Shield" tread technology and a twisted steel cord. The hard shell, and more flexible steel wire construction, helps to prevent cuts and damages whilst offering greater stability."
Goodyear fitted on Cupra's first electric model
​
Seat's motorsport subsidiary Cupra has selected a range of Goodyear summer tires as OE fitment for its first electric model Cupra Born. The new OE fitment builds on prior partnership between the two manufacturers. Cupra, said Goodyear, has selected EfficientGrip Performance range in sizes from 18 to 20 inches.
Falken selected as OE tires for Seat Leon
Sumitomo Rubber's Falken Tyre Europe has begun supplying Falken Ziex ZE310A Ecorun tires to Seat Leon. The tire is "one of the best-selling Falken tires" and most recently achieved a 'good' rating in the 2021 summer tire test by auto motor sport magazine.
Continental 'preferred after-sales partner' for Mercedes in APAC
German tire manufacturer Continental Tires has announced that it has been named as the "preferred partner in APAC markets" for the Mercedes-Benz global after-sales tires programme. The partnership covers Japan, Korea, Australia, New Zealand, Republic of China and India until August 2022 and Indonesia until August 2023.
Dunlop runflat sport tires factory standard on Nissan GT-R
​
Sumitomo Rubber Industries has begun supplying high-performance Dunlop "SP Sport Maxx GT600 DSST" runflat tires to Nissan for use as factory standard tires on the 2022 Model "Nissan GT-R" and "Nissan GT-R Nismo." The two models went on sale in Oct.
Continental gains more fitments with BMW 4 series
Continental has been selected by BMW for the supply of tires for it new 4 Series worldwide. EcoContact 6 summer tires in 17 and 18-inches sizes and the WinterContact TS 860 S winter tires in 18 and 19-inches sizes have been approved for OE fitment on the new models. The summer tire has been specially developed for low fuel consumption and high mileage. The runflat winter tire, according to Conti, combines "snow performance and high safety reserves with steering precision."
General Tire launches C-type all-terrain tires
General Tire, part of Continental, has introduced what it describes as "the first all-terrain tire with a c-identification for campers and vans." The Grabber AT3, said the tire maker, is suitable for all SUVs, vans, pick-up trucks as well as campers and vans without all-wheel drive.
SEPT/OCT 2021
Pirelli debuts new technologies with Cinturato Winter 2

​
Pirelli has introduced the new Cinturato Winter 2 - a winter tire for medium-sized cars and CUVs. New technologies include sipes on the tread pattern that become longer throughout the life of the tire, for extra control in snowy and wet conditions. In total, there are around 43 metres of sipes to improve grip on snowy surfaces, with a 30% improvement in roadholding on snow compared to the Sottozero 3.
Conti OE fitted on new Merc
Continental's 20-inch SportContact 6 with extra load rating has been approved as OE for the new Mercedes-AMG GT 63 S E Performance. The summer tire will be manufactured at the company's plant in Korbach, Germany. The tire features "force vectoring technology" for steering precision and "black chili" compound for: enhanced road contact, shorter braking and faster acceleration in both wet and dry weather.
Bridgestone develops custom-engineered Potenza Ferrari Roma

​
Bridgestone to supply tires for Ferrari's new Roma GT. The custom-designed Potenza Sport has a dedicated top tread compound and rear tire pattern geometry-void distribution to retain "outstanding" wet weather performance. The tire will be produced at Bridgestone's Rome, which typically manufactures prototypes.
Apollo launches all-wheel TBR
Gurugram, India — Apollo Tyres Ltd has launched a new all-wheel fitment radial tire for commercial vehicles in response to increasing radialisation trends. EnduRace RA, said Apollo 12 Oct, is produced at the company's Chennai factory and has tested extensively, both inhouse and in real world applications. The tire
Goodyear off-the-road expands retread lineup
Akron, Ohio – Goodyear has launched the RT-3B bead-to-bead retread for loaders and graders, complementing its existing lineup of off-the-road (OTR) retread tires. The retread tires, said Goodyear 15 Oc, can deliver "like-new performance" for tough OTR applications and can provide a savings of up to 60% versus a new tire.
Continental WinterContact tires recognised in tire reviews

​
Continental's WinterContact TS 870 came second in the Auto Express winter tire test, while its WinterContact TS 870 P came joint first in the Tyre Reviews 2021 winter tire test. The new TS 870, said Conti, has some notable improvements against its TS 860 predecessor. It features a new tread pattern design, construction, and compound for enhanced winter and wet-weather properties.
Pirelli and Lamborghini Countach celebrate 50 years together
Pirelli has marked 50 years of collaboration with Lamborghini Countach. In the latest development, Pirelli equipped the 202 Countach hybrid with P Zero tires. The UHP tire structure and compound have been optimised to reach the best possible roadholding in all driving situations, in addition to "high levels of traction and braking in the wet as well as the dry."
New tire for classic Mini collectors

​
Pirelli has developed a new Pirelli Collezione for owners of the classic Mini. The family of tires, designed for iconic cars built between 1950 and 1980, combine vintage looks and modern technology, Pirelli said in a 27 Sept statement. Pirelli said it recreated the Cinturato for all the different versions of the classic Mini. The radial tire has a tread pattern design and sidewall that is similar to the original but includes new compound technologies for increased grip and improved road holding on wet surfaces.
Hankook OE on new Porsche Panamera
Hankook is now supplying Hankook Ventus S1 evo Z tires for the new Porsche Panamera. The tire treads feature an "aramide composite material in a double-layer carcass." This, Hankook said, allows deformations to be prevented that would otherwise lead to an undesired increase in the rolling circumference. The tires also have high-strength steel in the belt and bead areas for stability.
Conti launches SportContact for "every vehicle class"

​
Continental has debuted the new flagship passenger car tie SportContact 7 which it says has significantly improved handling on both wet and dry roads compared to its predecessor. The tire has an "adaptive tread design" adjusting to dry and wet roads. In addition, it has the "BlackChili" soft rubber compound which matches the very rigid, low-profiled tire to improve handling and increase mileage.

Kia selects Kumho tires for EV6
The EV6, Kia's first battery electric vehicle (BEV), is to be supplied with low noise Kumho all-season tire Crugen HP71 and high-performance tire ECSTA PS71. Both patterns, Kumho said 9 Sept, exhibit "significantly less resonance noise" than standard products, helped by the company's patented sound absorbing technology, K-Silent.
Pirelli equips one in three electric cars at IAA

​
Pirelli tires were fitted on one in three electric vehicles featured at the IAA Mobility Show, held in Munich in September. The tires included Pirelli's P Zero or Scorpion tires, containing 'Elect' technology for zero or low-emission cars. Furthermore, Pirelli's Cinturato P7 tires were also at the show on the BMW 320e hybrid and 3 Series models. Pirelli said its Elect tires offer "low rolling resistance to increase range, decreased road noise to improve comfort, immediate grip to deal with instant torque, and the right structure to support the weight of a battery-powered vehicle."
Camso Japan receives Toyota president's award

​
Camso Japan, part of Groupe Michelin, has received the "president's award" from Toyota Industries Corp. in recognition of its excellence as a supplier. The award, said Michelin 10 Sept, follows a recent supplier award from Toyota L&F Co., the materials handling equipment division of Toyota Industries.
Michelin unveils new-generation all-season tire
Michelin has unveiled the new generation all-season Michelin CrossClimate 2, which it says is capable of tackling the majority of weather conditions. The tire range, Michelin said, is manufactured exclusively in seven European factories, notably in France, Germany, Italy and Spain.
Hankook taps material, tread technologies for TBR products

​
Hankook Tire Europe is debuting several new technologies, including materials, design and tread knowhow within its truck & bus SmartFlex series, which it says increases the performance of the tires significantly. SmartFlex AH51 for the steering axle and SmartFlex DH51 for the driving axle now feature "self-regenerating treads" and "SmartLife" technologies, helping them to respectively provide 15% and 20% better mileage compared to their predecessors.
Audi delivers "record performance" with Pirelli tires
Milan, Italy – The Pirelli P Zero Trofeo R has set a fresh record with the new Audi RS 3 at the Nurburgring circuit in Germany.The Audi set a new record of 7m40.748s on the 20.8-kilometre circuit, beating the previous record for compact cars by 4.64 seconds, which was established in 2019, Pirelli announced.
JULY/AUG 2021
Michelin's secures new Effitires contract with Abellio Bus

​
Abellio Bus, a London bus operator, has signed a new five-year Effitires contract with the Michelin. The new contract will see Michelin supply, fit and manage the tires across the company's 800-strong bus fleet. The service is estimated to help reduce the operator's CO2 emissions by more than 900,000kg, and raw material usage by 100,000kg, every year, Michelin said.
Bridgestone launches UHP Potenza Sport

​
Bridgestone Americas has expanded its bestselling Potenza ultra-high performance tire line with two new releases: the Bridgestone Potenza Sport and Bridgestone Potenza RE980AS. Featuring "next-generation compound, construction and tread technologies," the new Bridgestone Potenza tires offer 'enhanced ride comfort, improved snow performance and better treadwear,' said Bridgestone.

Pirelli tires on Acura supercar
New York — Pirelli's P Zero tires have been selected as OE fitment by Honda Motor for the 2022 Acura NSX Type S, launched only for the US market 12 Aug. Pirelli said it drew on its F1 experience in developing the tires for the limited-edition supercar.
Slick Pirelli P Zero on Stradale EXP

​
Pirelli P Zero Slick tires have been selected by Dallara to equip the exclusive Stradale EXP, a version of the road-going Stradale designed for track use, with 500 hp, 720 Nm of torque and weighing only 890 kg. Pirelli said its engineers faced a difficult challenge in the developing the dedicated slick tires, which are required to withstand impressive loads. The tires developed especially for the Stradale EXP have allowed Dallara to achieve its goal of lapping the Mugello circuit in less than one minute and 46 seconds.
Nexen Tires on Kia's EV6
Seoul – Nexen Tire has been selected to supply original equipment for Kia's first electric car, the EV6, the Korean tire maker announced 10 Aug. Nexen said its Roadian GTX EV and N'FERA Sport EVs, which will be fitted to the EV6, were designed and tailored to provide higher abrasion resistance and can minimise tire road noise by about 5dB compared to existing products.
Bridgestone tires on EV, AV trucks in US
<img src="https://s3-prod.european-rubber-journal.com/s3fs-public/inline-images/bridgestone-electric-truck.jpg" class="cke_widget_element" data-cke-saved-src="https://s3-prod.european-rubber-journal.com/s3fs-public/inline-images/bridgestone-electric-truck.jpg"