Nokian to move North America HQ to Nashville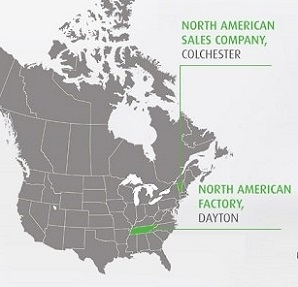 Colchester, Vermont — Nokian Tyres North America is planning to move its headquarters over the coming 12 months from Colchester to Nashville, Tennessee, about 150 miles west of Dayton, Tennessee, where the firm's parent company is building its first US plant.
It is unclear how many of the 65 employees at the Vermont facility will be relocated, eliminated or remain in Colchester, where the company will retain all or part of the 200,000-sq.-ft. facility as a warehouse and distribution centre.
Hans Dyhrman, Nokian's director of marketing, said there are two reasons for the move.
"No. 1 is to be closer to the manufacturing facility," Dyhrman said. "It's a shorter, much shorter, distance drive down to Dayton. Secondly, Tennessee and Nashville are certainly becoming an auto industry hub. In terms of access to employees, there are a lot of opportunities."
Dyhrman said it's too early to determine how many employees will be offered relocation or remain at the Vermont facility.
"We don't have specifics pinned down at this point in time," he said. "That's why we're taking a long transition period. We'll see what employees may or may not be interested in relocating and proceed from that."
He said all employees will remain in Colchester until April 2019, and those retained there beyond that time will perform functions related to warehousing and distribution.
The announcement was made in conjunction with Nokian's naming Mark Earl, president of Hennessy Industries, as its vice president, Americas Business Area. He will responsible for implementing the company's North American business strategy, including doubling sales by 2023, growing its distribution and building and strengthening the firm's North American presence.
Earl will be based at a temporary office in Nashville. Whether that office becomes the permanent North American headquarters or another office is leased, acquired or constructed remains to be seen.
Earl is taking over the regional vice president's duties from Tommi Heinonen, who is transitioning to a new position as head of sales for the Americas. The changes become effective 1 May.
Heinonen, currently head of the North American subsidiary, will remain in Colchester for the next year and is expected to return to his native Finland next summer.
North America represents 11% of Nokian's global business after growing more than 15% last year to $195 million (€159 million).