Bridgestone retains top spot in global tire industry ranking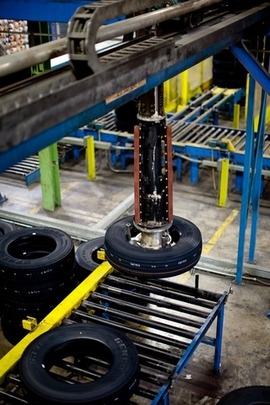 Status quo reigned over the 2017 global tire rankings, even as the estimated value of the entire industry declined for a third straight year.
Status quo reigned over the 2017 global tire rankings, even as the estimated value of the entire industry declined for a third straight year.
Bridgestone Corp. retained the No. 1 spot for the ninth straight year, with tire-related sales of $22.1 billion, comfortably ahead of Michelin's $21.1 billion and Goodyear's $13.5 billion, according to research by European Rubber Journal sister publication Tire Business.
That said, all three reported lower sales than in 2015, as did more than half of the companies in this year's Top 75 ranking.
Most of the bigger decliners were Chinese companies, who were affected disproportionately by the imposition of elevated import duties in the US and a few other countries.
Many of the major Western companies also experienced lower sales due to sluggish or even no growth in several major global markets.
Currency exchange issues also figured into the decline in many companies' sales figures as translated into US dollars. As a result the estimated value of the global tire market dropped about 5.6% to $151 billion.
The value of several of the world's major currencies shifted compared to the dollar by up to 20% in 2016 from 2015, the second straight year of measurable swings. Even the Chinese remnibi exchange value shifted measurably for the first time, exaggerating the declines experienced by the Chinese contingent.
The US dollar-denominated sales figures in the ranking are based on average annual currency exchange figures, in order to avoid unusually high or low exchange rates at year-end.
Sales declines
Tire makers are ranked based on their revenue from the sale of tires they've manufactured, excluding items such as third-party sales of steel cord, synthetic rubber or carbon black, as well as estimates for non-tire items such as auto-service-related revenue at company-owned retail stores.
Bridgestone, Michelin, Goodyear and Continental AG, for example, report hundreds of millions or even billions of dollars in revenue from their respective captive retail networks. In addition, Bridgestone, Michelin and Goodyear derive a measurable amount of revenue from the sale of synthetic rubber or other raw or semi-processed materials to third parties.
Bridgestone's position at the top is solidified by minority ownership stakes it holds in two other Top 75 companies – a 43.6% stake in Turkey's BRISA/Bridgestone-Sabanci Tire Mfg. (No. 37 with 2016 sales of $561.5 million) and a 14.6% stake in Finland's Nokian Tyres plc (No. 19 with $1.38 billion in tire manufacturing-related sales).
Overall, 10 of the 22 publicly traded companies outlined in this report suffered tire business sales declines in 2016, including a double-digit drop by Bridgestone.
A year ago nine of the 21 public companies profiled reported fiscal 2015 declines.
At the other end of the spectrum, India's Apollo Tyres Ltd and JK Tyre & Industries Ltd registered double-digit sales gains, 10.3 and 10.2%, respectively.
Apollo attributed its sales gain to international growth – up 36% in Europe and 132% in other overseas markets. JK Tyre's growth was aided to an extent by its acquisition of Cavendish Industries Ltd., an Indian company active in the two- and three-wheeler tire segment.
Collectively, the top 10 tire companies accounted for slightly more than 64% of the world's tire sales last year – up about a point from the 2015-16 ranking, the third straight year that the top tier has defended or improved its position relative to the rest of the global competitors.
Continental remains comfortably positioned at No. 4 with sales of $10.8 billion, ahead of Pirelli Tyre SpA's $6.38 billion.
Change on the horizon
Sumitomo Rubber Industries Ltd, South Korea's Hankook Tire Co. Ltd, Japan's Yokohama Rubber Co. Ltd, Taiwan's Maxxis International/Cheng Shin Rubber and China's Zhongce Rubber Group make up the rest of the Top 10.
The Top 10 is due for a change next year, as Pirelli will lose roughly $1 billion in sales to the Prometeon Tyre Group S.r.l. commercial/industrial tire business spin-off orchestrated by new owner China National Chemical Corp.
Depending on how that corporate realignment shakes out – and how Hankook Tire performs – Pirelli could end up sixth or seventh. Sumitomo Rubber will assume the No. 5 position.
To date, Prometeon Tyre lists four former Pirelli tire plants – two in Brazil and one each in Egypt and Turkey – with more than 7,300 employees and a commercial presence in more than 160 countries.
Prometeon Tyre disclosed recently that the operations of China's Aeolus Tyre Co. Ltd will be integrated into Prometeon before year-end.
Once the integration of the various elements are completed, Prometeon Tyre will control production capacity of approximately 18 million tires a year with about 18,500 workers globally.
The company's portfolio will cover a range of market segments, from high-end premium products under the Pirelli brand, tier 2 products under the Aeolus brand and more entry-level products under the Yellow Sea, Double Happiness and Torch brands. The product range encompasses truck, bus, agricultural and OTR tires using technology under a license agreement with Pirelli Tyre.
The combined ChemChina/Pirelli truck tire business most likely will claim a spot in the Top 25.
Other recent acquisitions having an impact on the rankings this year and next are Yokohama Rubber's purchase of Alliance Tire Group and Trelleborg AB's purchase of CGS a.s./Mitas Tyres.
Yokohama's ATG deal – together with a subsequent purchase of Japanese solid tire maker Aichi Tire – solidified YRC's No. 8 position in the ranking, while Trelleborg gained 17 places in the ranking to 32nd.
Yokohama and Trelleborg stand to gain more ground this year as they include full years of ATG and Mitas results, respectively, versus just six months in fiscal 2016.
Newcomers
New to the rankings this year are three companies from China:
Hixih Rubber Industry Group of Jining, China – No. 31 with sales of $720 million;
Shandong Haohau Tyre Group Co. Ltd. of Weifang – No. 43 with sales of $440 million; and
Shandong Province Sanli Tire Mfr. Co. Ltd – No. 64 with sales of $229.7 million.
There are 33 Chinese companies in the 2016 ranking – including three among the top 20 – along with eight from India, five each from Taiwan and the US, four from Japan, three from South Korea, two each from Italy and Turkey, and one each from Argentina, Belarus, Canada, Czech Republic, Finland, France, Germany, Indonesia, Iran, Russia, Singapore, Thailand and Vietnam.
Average operating earnings ratio among the 22 publicly traded companies in these rankings is 11.8%, down slightly from 12.4% in 2015.
Nine of the 22 companies reported lower operating income in 2016 vs. 2015.
Indonesia's P.T. Gajah Tunggal and Finland's Nokian. were the most profitable, percentage-wise, with operating ratios of 23.4% and 22.3%, respectively.
The average net income ratio for the group of 22 was 6.8%, a 0.9% gain from 2015. Eight of the 22 firms registered lower net income in 2016 and two – Titan and Toyo Tire & Rubber Co. – were in the red.
The average sales per employee for the dozen publicly traded companies that provided employment data was $192,507, down 9.3% from 2015.
Nexen Tire Corp. had the highest sales per employee at $371,944, ahead of Nokian at $333,860; Toyo Tire at $288,694; Cooper Tire at $277,501; Hankook Tire at $248,695; and Kumho Tire at $241,648.