Linglong mulls overseas sites, facility upgrade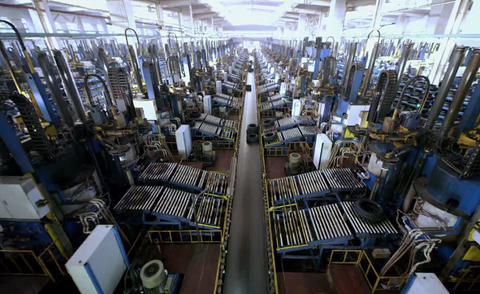 Guangzhou, China - Shandong Linglong Rubber Co is planning two more overseas production sites to bring its total annual capacity over 90 million unit, and will determine the location of one this year, according to chairman Wang Feng.
"Our Thailand factory has been operating at full capacity," said Wang at the 2017 China Rubber Conference held in Guangzhou this March, "We also plan to make the factory smarter and raise its capacity by 10% or 20%."
Linglong's $700-million Thai plant with 12 million unit per year passenger car tire capacity and 1.2 million per year truck and bus tire capacity went into full operation in 2015.
The company has three domestic sites: one in its headquarters city Yantai, Shandong, one in nearby Dezhou and a third in Liuzhou, Guangxi.
The three sites have a total annual capacity of 48 million unit passenger car tires, 6.2 million unit truck and bus tires, 1 million bias tires and 200,000 specialty tires. An ongoing 1.2 million unit per year truck and bus tire project is likely to start up this year.
The domestic facilities are running at a lower capacity utilisation rate, though. Wang pegs Linglong's 2017 production at 53 million units.
Investment
"Linglong is lagging behind in factory automation. We are hoping to learn from our fellow companies with plenty of successful experiences," Wang said. About €270 million investment is earmarked over the next five years to upgrade Linglong's plants.
Wang feels more proud of the company's research facilities and a new research center is being built in Yantai. Linglong develops two new tire models each day, mostly with customised patterns for different clients, and expects to roll out 900 models this year.
Linglong has become an OE supplier for 60 automotive companies, including several on the top ten list such as VW, Ford and Nissan, the highest number among China's tire makers.
Last August, Linglong opened its Sino-Asia Tire Proving Ground in Yantai, China's first outside tire test ground, with 1.6-million-square-metre total area. The €161-million facility is designed and operated by IDIADA of Spain.
"We've covered all the outside tests for tires, and IDIADA's design and operation guarantees its independence," said Wang. "I need approval to go to the ground and there are some data I'm not allowed to even ask about."
Article from ERJ's China Tire Report 2017, published as a supplement in the July/August issue of European Rubber Journal print magazine.