ContiTech opens plant for elastomer coatings in China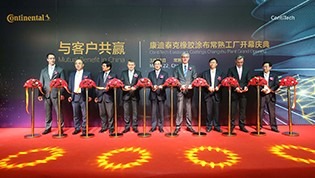 Changshu, China - ContiTech has announced the opening of a plant to produce high-performance coated materials in Changshu, China.
The €20-million unit, which was opened earlier this year, is ContiTech's first elastomer coating manufacturing facility outside Germany.
The product range includes robust concertina wall materials, which connect railway carriages together, or fabrics for protective equipment, dry diving suits or life rafts.
"The investment into that new plant underlines our commitment within and to the Chinese market. It allows us to better meet our Chinese customers' demands in different industries," said Peter Scholtissek, head of ContiTech Elastomer Coatings.
Located at ContiTech's central hub in Changshu, the unit can enjoy central services and compound supply from the raw material mixing unit next door, which already supplies calendered material and other semi-finished goods for air springs and transmission belts.
Additionally, ContiTech said, the plant has been built to high ecological and energy-friendly manufacturing standards.
"Based on cutting-edge facilities for waste air treatment, the site stays below Chinese emission limits more than ten times," said the German rubber and plastics engineering company said.
Series production has been running since beginning of 2017 with approximately 25 workers, a number that is set to double over the next few months.
ContiTech said it would supply customers in China and further Asian regions from its new base in Changshu.
The company is already selling coated fabrics in China such as diaphragms for automotive fuel management or robust and weatherproof materials for folding bellows used in railway vehicles.