Trelleborg opens polyurethane facility in UK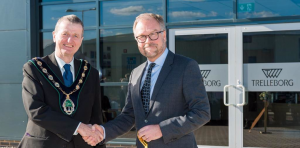 Redford, UK – Trelleborg AB's applied technologies operation inaugurated a new purpose built facility in Retford, UK on 9 March to further enhance its polyurethane manufacturing capabilities.
According to a 10 March statement by the engineering group, the facility will serve as a "centre of excellence" for Trelleborg's diversified polyurethane component manufacturing.
The facility consolidates four UK sites; one in Retford, two in Coventry and one in Knaresborough, into a single unit, explained Trelleborg.
The the 7,225 square metres plant, the Swedish group said, has been constructed using "lean manufacturing principles with a focus on environmental efficiency."
The unit will manufacture the current product portfolio of Trelleborg's applied technologies operation.
"By combining our local expertise from several Trelleborg facilities in the area into one, we will reduce our footprint and environmental impact on the local area," said Ulf Berghult, chief financial officer for Trelleborg Group.
"By heavily investing in the upgrade of our existing equipment we will be able to develop a next generation of new ground-breaking products," said Ray Cann, managing director for Trelleborg's applied technologies operation in Retford.